When it comes to generating a QR code, one thing that has to be taken into consideration is the fact that QR codes need to be decoded by a QR code reader/scanner.
A long time ago, barcodes were just black and white patterns. Scanners didn't break a sweat when reading them.
Nowadays, with the introduction of QR codes, the technology to decode them has evolved in order to have a better readability and an even faster response.
What are the best QR code readers/scanners for your mobile device?
A smartphone or a tablet's camera will not be able to scan the QR by itself. They need a software that enables them to decode the information and send the user to the code's destination (a website, a vCard, a YouTube video, etc.)
QR code readers differ according to the mobile device's operating system such as Android, iPhone, Windows and BlackBerry.
Also, there are QR code scanners that have added features like keeping a log of the QR codes that were scanned or being able to decode more types of barcodes like UPC and ISBN.
Some mobile devices come already equipped with a pre-installed QR code reader provided by the carrier.
If that is not your case, or your potential clients for that matter, here are our top picks for the best QR code scanners for you to choose from.
Now that we've narrowed down these QR code readers, let's study each one of them.
Bar-Code
Let's start off with one of the oldest QR code scanners out there. Bar-Code was developed by Roberto Sonzogni (PW2) and it has reached a whopping 3.500.000 downloads on iTunes.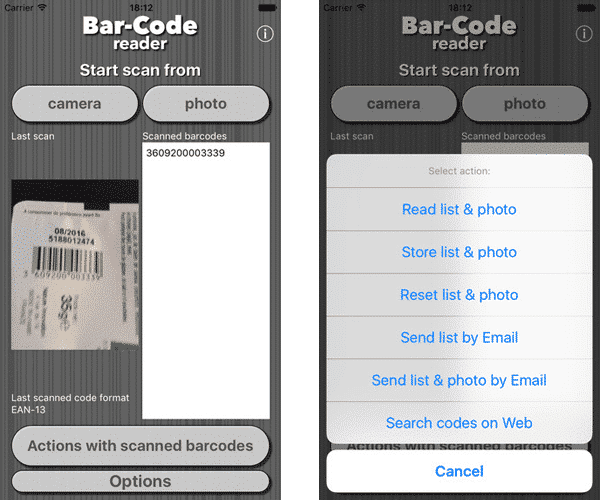 Bar-Code supports a wide range of barcodes including EAN, UPC, ISBN, QR codes, etc. The app is intended to share the information of a scanned code rather than viewing its content instantly.
With Bar-Code you can scan codes using your mobile device's camera or have the information decoded from a photo of a code. Therefore, once you open the app, instead of booting up the camera, you first have to tap the main button to start scanning.
Once you scan a code, the information plus the code's format will be displayed on screen. You can then "do something with scanned barcodes" like sharing the content via email, SMS, Google Drive, Facebook, etc. To get to the actual destination of a QR code for instance, you have to tap the option "Search last barcode on Internet".
Bar-Code is a free app that featured ads. You can have them removed for $0.99. Then there's Bar-Code Professional which has a lot of configuration options for $3.99. PW2 also develops custom made versions of the app. You simply have to contact them in order to get more information.
Price: Free (Remove Ads $0.99 – Professional $3.99)
Available on: Android and iPhone
Website: pw2.it
i-nigma
This QR code reader was developed by 3GVision and it has an overall user rating of 4 out of 5 stars across all its supported platforms.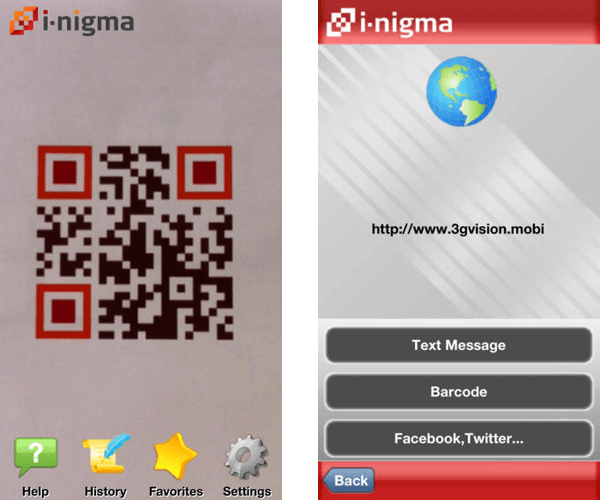 i-nigma is by definition a QR code scanner. Although it can also read barcodes like Data Matrix, EAN, UPC and more, the app's main attraction is its fast QR code readability. Open the app, point your mobile device's camera at the code and snap. You can either jump into the content or share it in a plethora of ways.
i-nigma's interface might not look as stylized as others, but what it lacks in flare, it most definitely makes up for quality. It works wonders when scanning customized or reversed (bright patterns on dark background) QR codes. If it doesn't redirect, then it's the code's fault; i-nigma works flawlessly.
As for the app's features, there's a history log that saves all your scanned QR codes and their respective contents. You can also compare prices of various products at leading online retailer sites after scanning a barcode.
As if that weren't enough, i-nigma is completely free and it's available on all main operating systems. A must have for all QR code enthusiasts.
Price: Free
Available on: Android, iPhone, BlackBerry and Windows
Website: 3gvision.com
Kaspersky's QR Scanner
It only does QR codes. There, I said it. This is not a multi-barcode reader as the previous two. But I guess that's fine since this article is all about QR code readers and scanners. So, what gives? Why is Kaspersky's QR Scanner special? Let's find out.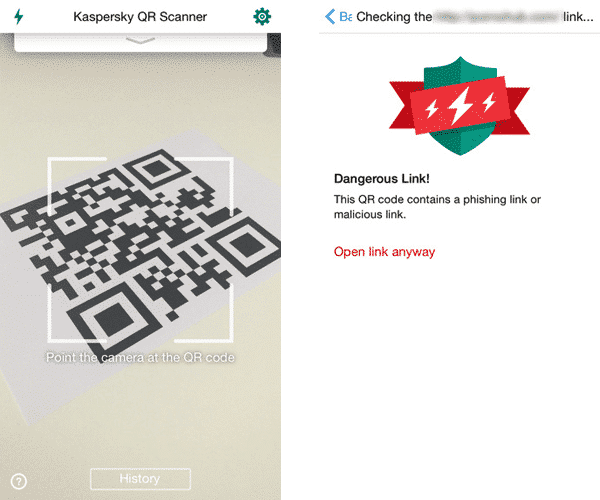 Once you open the app for the first time, you'll notice that security is Kaspersky's game. This QR code scanner will protect you from rogue QR codes containing dangerous links that can lead you somewhere you don't want to go and expose you to malware and phishing traps. This is a very important aspect that most QR code readers tend to disregard.
Kaspersky's QR Scanner looks great. It stores your scanned QR codes, it comes with its own browser (no need to choose where to display the content), and, while it doesn't come with an instant share option, you can copy the link of the QR code to share it later.
The QR code readability is not as fast as you might expect. Still, considering that the app analyzes the code in order to ensure that it is safe to access, the little extra time it takes to load the content is understandable.
If you are not in a hurry and want to avoid malware, then Kaspersky's QR Scanner is what you want to use to scan QR codes with you mobile device.
Price: Free
Available on: Android and iPhone
Website: free.kaspersky.com
NeoReader
Heading back to the realm of QR AND barcode scanners, we've got NeoReader, developed by NeoMedia Technologies, Inc. A robust scanner that only does it all while occupying approximately 4 MB of your mobile device's internal memory. Neat.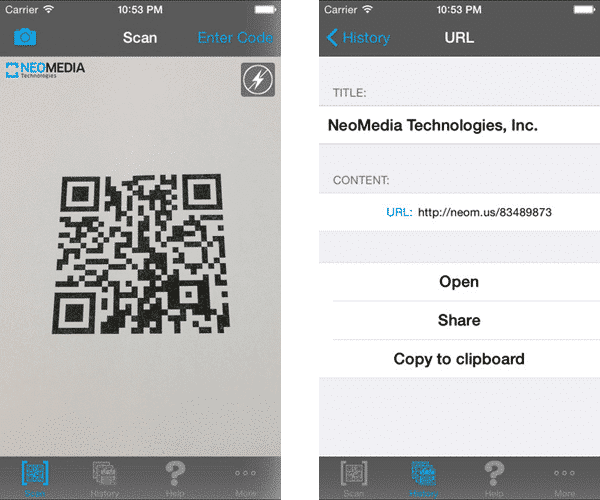 NeoReader has its own animated splash screen once you open it. This means business. There's an introductory text on your first booting of the app which runs you through the basics and more.
With NeoReader you can scan almost every type of barcode like 1D and 2D code types: QR, Data Matrix, Aztec, EAN, UPC, Code 39, Code 128, PDF 417, etc.
Regarding the use of barcodes, there's a special tab that allows you to insert manually the code's number or select an image.
As for QR codes, the readability is fast and easy. Simply drag down the main menu and you'll be ready to go. Upon scanning a QR code, you can either open the link on your mobile device's browser or tap "More" to save the content or share it via email, SMS, Facebook or WhatsApp.
This app's history log is very useful as it allows you to perform simple actions with ease. You can open the link of the code, change its name to something more suitable, delete it, share it or even export it (this last feature costs $0.99).
All in all, NeoReader is as good as it gets when wanting to scan QR codes and sort their links in an organized fashion. Ads may hinder the experience since they occupy both the upper and lower portions of the screen. However, they can be removed. No complaints there.
Price: Free (Code Export $0.99 – Remove Ads $0.99)
Available on: Android, iPhone, BlackBerry and Windows
Website: neoreader.com
QR Droid
This Android only QR code scanner developed by DroidLa has an overall user rating of 4.1 out of 5 stars. PCWorld and Android Magazine gave the app 5 out 5 stars.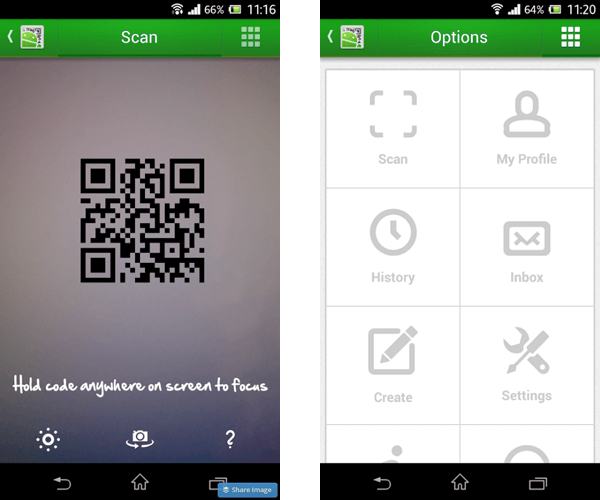 QR Droid is not just a simple QR code, barcode, and Data Matrix scanning utility. It will also turn your mobile device into a QR code generator.
Their proprietary QR codes known as XQR codes can be linked to any content you like. Plus, you can customize them, share them and track their global stats. This feature is quite impressive considering that it's all tucked inside the app itself, which justifies the approximately 12 MB install size.
QR Droid is also about making it easy for you to run the app and scan. It comes with its own set of widgets for you to place them on your mobile device's home screen(s).
If you are looking to scan QR codes and generate your own, QR Droid is a great pick. Sadly, there's the fact that it's only available on Android. Look elsewhere, iPhone users.
Price: Free
Available on: Android
Website: qrdroid.com
QuickMark
QuickMark, developed by SimpleAct Inc., is a multi-barcode scanner that packs a ton of features, including bulk scanning (more on that later).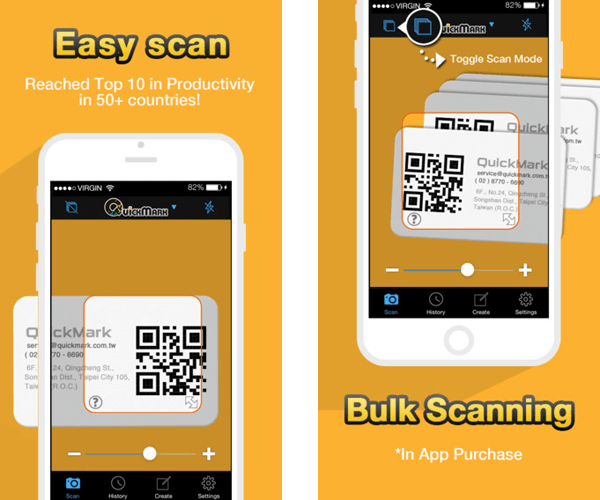 Upon opening QuickMark, you'll notice that the scanning frame can be adjusted. This is one of the many neat tricks that this app offers. You can scale the frame in order to fit the code perfectly if it is cluttered with text around it, for example.
Aside from the ordinary actions like sharing and saving scanned codes, you can also create and customize your own QR codes using QuickMark's in-app QR code maker. They are easy to set up and customize.
Now, on to QuickMark's specialty: bulk scanning. Say you want to scan multiple QR codes in order to save their URLs. Most QR code readers open up a dialog box after scanning which asks if you want to open the link or save/share it. With QuickMark, you can bypass this action. Scan your QR codes and have their content stored for later. The continuous scan feature is not for free though; it costs $1.99.
Both QuickMark and its Lite version are available for free on Android and iPhone. A great experience overall that shouldn't be dismissed without trying.
Price: Free (Continuous Scan $1.99)
Available on: Android and iPhone
Website: quickmark.com.tw
Quick Scan
Quick Scan, developed by iHandy Inc., makes QR code and barcode scanning "handy". See what I did there? Fine, let's move on.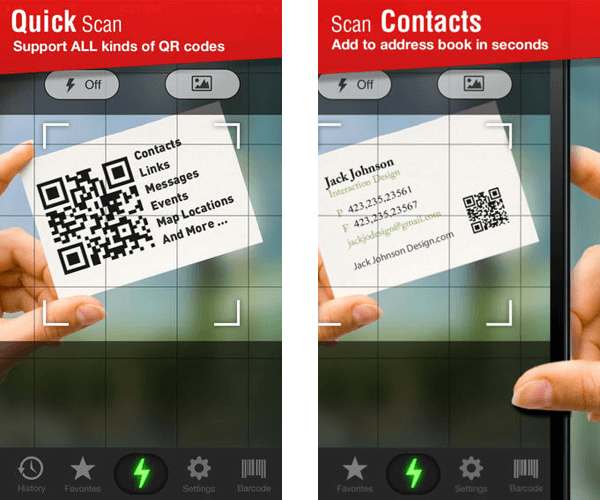 If you happen to download Quick Scan, you'll notice right away that although it offers aforementioned features such as having a detailed history log, sharing scanned content across multiple networks and creating QR codes for texts or URLs, the app excels at being an online shopping companion.
You can scan a product's code and then compare prices while in-store. Find out when and where you can get the best deals from your favorite brands and merchants. Check reviews, add items to your wish list and buy online. All of this can be accessed right in the app and all it takes is for you to scan a code.
Truth be told, Android users have found some difficulties scanning codes with Quick Scan (the most crucial part of a QR code reader).
Regardless, if you want to experience a true online shopping experience on your mobile device by scanning QR codes, seek no further; Quick Scan is here.
Price: Free
Available on: Android and iPhone
Website: ihandysoft.com
Scan's QR Code Reader
This QR code reader is a throwback to a much simpler time. Open the app and scan the code. No fancy dress needed!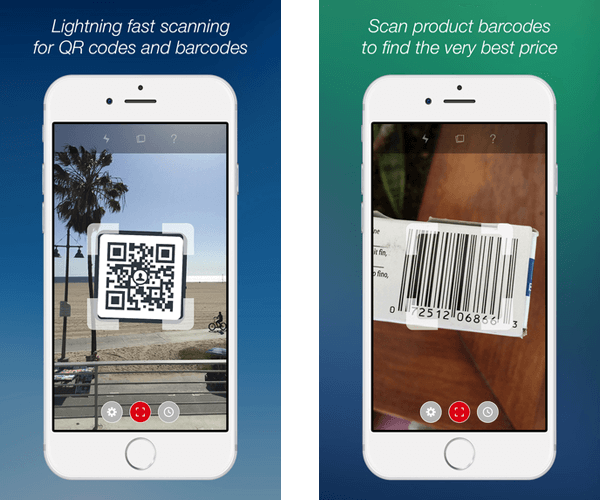 Right before knowing what makes Scan's QR Code Reader special, let's take a trip down memory lane. Scan.me, the company that developed this QR code scanner, also had hosted QR codes. Sadly, they were deactivated. Users were left astray for a while. But Scan.me's app still holds up.
As I said before, special features like generating QR codes or online shopping are nowhere to be found here. This is a plain QR code reader, but don't get me wrong, it works great and that's what we are after, right?
With Scan's QR Code Reader you can scan QR codes and all types of barcodes. You can also open up a stored photo of a code and have the app decode it. Lastly, you can sync your scan history across the web and all of your devices.
This version of Scan's QR Code Reader is cost-free. There is another version of the app simply called "Scan" which is coming up next.
Price: Free
Available on: Android, iPhone and Kindle
Website: scan.me
Scan
So, Scan.me has yet another QR code scanner up its sleeve. Let's check it out, shall we?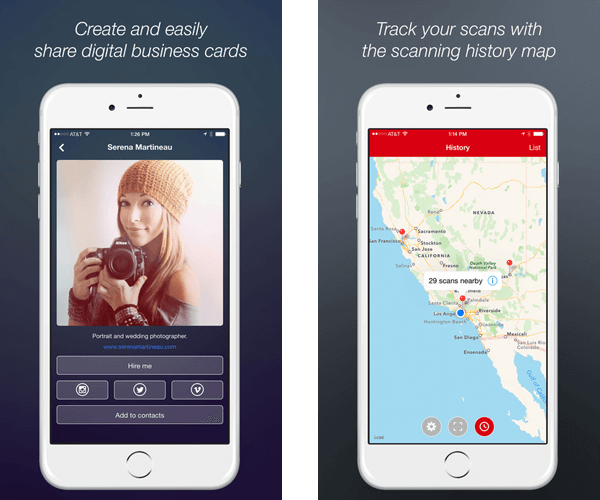 Scan is more of a definitive edition of Scan's QR Code Reader. You get the very same app but with added features.
You can toggle on your mobile device's front camera to scan QR codes and barcodes alike, as well as using the device's light (if it has one) for scanning in low-light circumstances. Scan also features a more comprehensive history list and map of all of your past scans.
If Scan's QR Code Reader doesn't quite satisfy your needs, you might want to download Scan. Windows and Kindle users are welcomed to use the app as well.
Price: $1.99
Available on: Android, iPhone, Windows and Kindle
Website: scan.
TapMedia's QR Reader
TapMedia's QR Reader is available on Android and iPhone. However, it seems as if it was originally intended to be used on one of the two…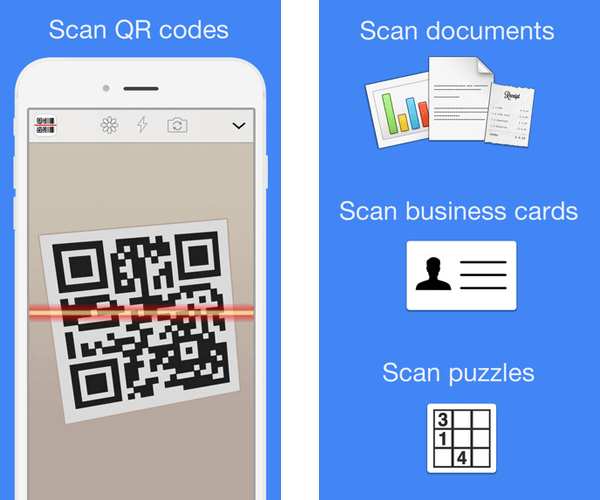 While the iPhone version of TapMedia's QR Reader supports QR codes as well as barcodes in general, Android is not so lucky. However, both versions can scan puzzles, business cards and documents like PDF files.
TapMedia's QR Reader comes with an integrated QR code generator as well. You can't customize the looks of your QR codes, but the myriad of content options you can choose from makes up for that.
The app's history log and its favorites tab will help you keep all scanned content organized and ready to be accessed or shared.
TapMedia's QR Reader is not without its flaws. The app for Android is definitely the weaker version of the two. Having said that, the scanner gets the job done. It is simply not that great.
Price: Free
Available on: Android and iPhone
Website: tapmedia.co.uk
Zapper
Last but not least we've got Zapper, developed by Zapper Limited. A scanner that supports QR codes but not as you might expect.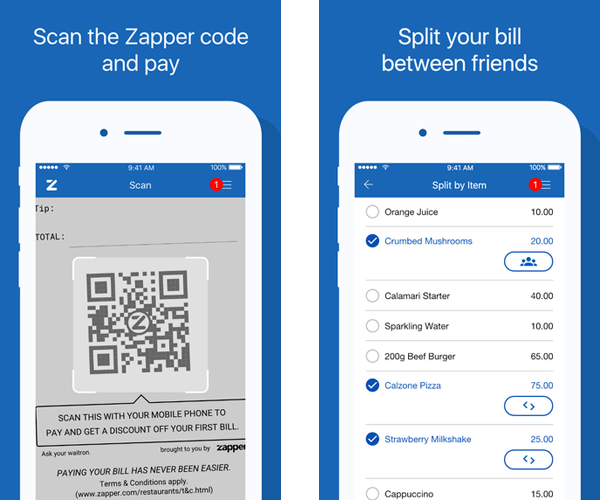 Zapper is a mobile payment app. If you want more out of this one, then scroll up to our 10 previous picks. On the other hand, if you were looking for the best QR code reader to make payments on your mobile device, this is it!
Once you open the app, you'll be asked to insert your personal information (name, email, phone number). After that, pick your payment method and you're good to go. No need to worry: Zapper explains that "your payments are safe, secure and your card details encrypted."
Zapper's features include fast and easy payments, total track of your receipts, bill splitting with your friends, finding restaurants in your area and access to discounts and vouchers.
Mobile payments used to be a thing of the future. But turns out the future is now. Having Zapper installed will turn your mobile device into a credit card, so to speak.
Price: Free
Available on: Android, iPhone and Windows
Website: zapper.com
The all time favorite QR code reader/scanner
The decision comes down to two simple yet important things: readability and speed. Because of this, we suggest using the i-inigma QR code reader. It includes many of the features we've discussed, it's available on all platforms and you can rest assured that if it won't decode the QR, it means that the code itself is not working as it should.
Coming in second place would have to be Kaspersky's QR scanner. Not only because it does precisely what it's meant to do but because it introduces a security feature that will keep you on the safe side if you happen to scan a malicious QR code.
Of course, this is just our humble opinion. You may already have your own favorite QR code reader installed and ready to scan. So here's hoping that through the study of these top QR code scanners you've found some insight and are now ready to make your choice.
What's your favorite QR code reader? Leave us a comment below letting us know!