Why should you have digital business cards?
Linking a QR code to your personal vCard is the most effective way to have someone access your contact information. In this day and age where technology and communications are ever expanding, having digital business cards is crucial to being one step ahead of the competition.
vCards can be shared across all contact platforms and can also be imported or exported to/from your personal information manager.
Also, QR codes, being the number one technology that bridges the gap between the physical world and the digital world, will not only enable you to store all your information and much more (we'll get to that later), but it will also make your digital business cards stand out.
How do digital business cards work?
By having your contact information linked to a QR code, you can then add the code to your business card, print it and hand them to your clients or fellow workers. They can then scan the code using their smartphones with a preinstalled QR code reader and have all your information added to their contact list. No more wasting precious time typing down on an address book!
vCard QR Codes allow you to insert all the contact information you want, such as:
First and Last Name
Mobile and/or landline number
Email address
Home/Company address (city, state, country, zip code)
Company/Organization
Title within said company/organization
Website
There's also the possibility to add your Facebook, Twitter, Google+, LinkedIn and YouTube social media profiles.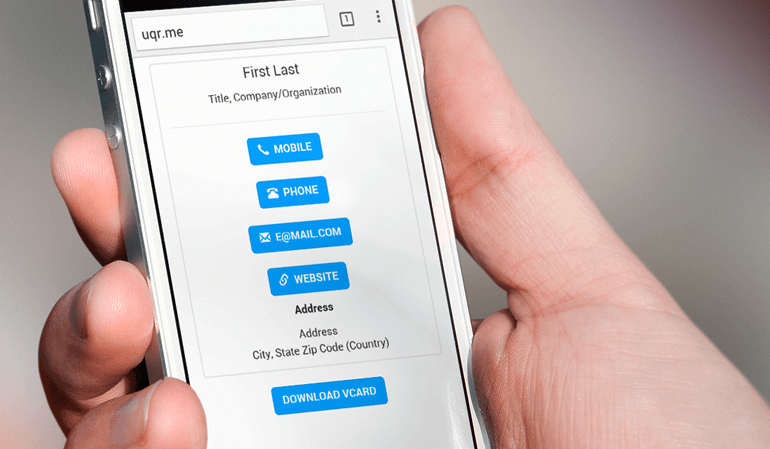 By having so many options at hand, you can rest assured that whoever scans your vCard QR Code will get all the information needed to contact you in an instant.
Articles on how to create a vCard QR code are easy to find since the codes themselves have become a very relevant trend. Without further ado, here's our tutorial.
How you can create digital business cards
When deciding to create a vCard QR Code, you may want to choose a QR code generator that actually allows you to do so. Not all are created equal because of the many possibilities that QR codes offer.
There are QR code creators that allow you to generate static QR codes. This means that once you create one, you will not be able to change its content.
On the other hand, QR code managers, a more robust version of QR code makers, let you choose whether to generate a static or a dynamic QR code. These codes are recyclable; you can change their content as many times as you want.
Since you are on the lookout to create a vCard QR code, going for a QR code manager that offers dynamic QR codes is the way to go. If you move into a new place or get a new job, you can change and update your vCard's information without having to reprint your business cards. A cost-effective choice, might I say!
In order to make things easier for you, here's QRcodeKit.com; a QR code manager that will allow you to create dynamic QR codes. One of its many redirecting options is, you guessed it, a vCard. Here's how to generate yours in no time:
Step 1: Sign in to QRcodeKit.com
Choose freely from one of our plans. They differ according to your needs. Say, for instance, you'd like to create multiple digital business cards for all your employees. Then, our premium plans will get you covered since you will be able to generate unlimited QR codes. But let's stick to one for now.
After you sign in, you'll have access to your dashboard. Create your first QR code and you'll be ready to the next step.
Step 2: Link your QR code to a vCard
Click QR setup next to your QR code and select the option "vCard" from the QR type tab. Insert your contact information and click save. Preview your newly generated vCard QR Code using your smartphone to see what people will get once they do so.
Now that you have your information stored on a QR code, you may want to download it in order to add it to your business card and have it printed, but wait! There's more you can do…
Step 3: beautify your vCard QR code, download and print it
Do you want your vCard QR Code to stand out? With QRcodeKit.com you can customize the look of the code to make it more personal. There's no way to bypass the pattern itself, but you can change its color scheme. The final result will be more appealing to the eye.
After that, download the QR code as a vector graphic file (EPS, PDF or SVG) in order to have the best printing quality.
What else you should know about vCard QR codes
As you can see, having your own vCard QR Code is really simple and straightforward. But in order to guarantee that your QR code can be scanned successfully by a QR code scanner, here are some considerations:
The size of the QR code
The common size of a business card is approximately 9 × 5 cm (3.5 × 2 in). Being said that, the QR code's size should not be below 1 x 1 cm (0.4 x 0.4 in). Having a QR code printed in a smaller size might not be able to be decoded by a QR code reader. So, just to be on the safe side, have the size of the QR code be at least 3 x 3 cm (1.6 x 1.6 in).
The error correction level of the QR code
QR codes come equipped with an error correction feature that allows them to be readable even if the image itself is partially obscured or slightly damaged. There are four error correction levels: L, M, Q and H. Each level has its own percentage of damage it can sustain, L being the lowest and H the highest. Thus, a level L is ideal for a vCard QR code since it will make the code less dense and easier to decode.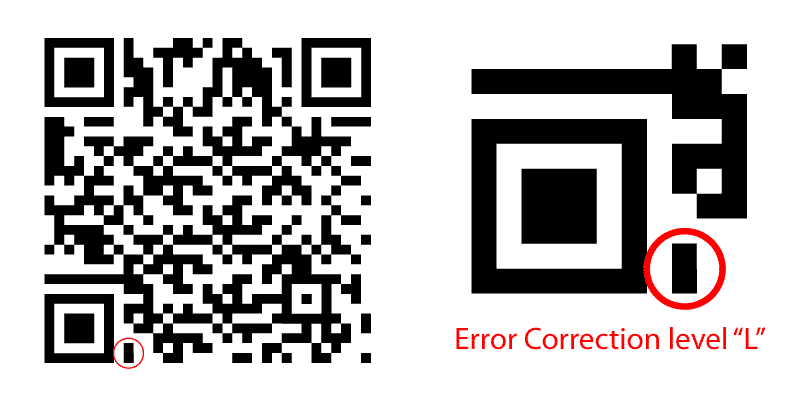 The graphic design of the QR code
Though you can change the color scheme of the QR code, it is important to know that since it will be placed on your business card, most customization options might hinder the readability.
Make sure that the QR code has enough contrast with the background.
Leave an empty space around the code, also known as the quiet zone.
Adding your company's logo to the code, which you can do, may be too little for it to be recognizable.
The testing of the QR code
Test is the name of the game. If you're planning to print lots of business cards, you must be at ease that the QR code is working properly. Try scanning the code with several QR code scanners running on different mobile operating systems. Here are our top picks.
Wrapping up!
As mentioned before, generating your vCard QR code with a QR code manager allows you to change your contact information on the fly, but that's not all. You will also be able to retrieve its statistics. In this scenario, you will find the information useful if you are looking for a job, for example.
Above all, being a dynamic QR code, you can change its content if you so desire. Go from a vCard to your own website URL, or even a custom made mobile page, in which you can insert your resume. If there's something QR codes can do, it's definitely everything.
Generate your digital business cards now