What is a QR code?
But basics first. A QR code, also known as a QBar code, is a quick response code that people scan to access information such as websites, contact forms, promo pages, restaurant menus, etc. They typically look like a square version of the traditional barcode and comprise a matrix of points wherein data is stored. These points are not visible to the human eye, hence the need for a QR code scanner, such as an iOS device, to read the code.
QR codes are technically a type of barcode. However, they are more widely used because they allow businesses and establishments to accomplish several things at once. QR codes are used for marketing, promos, communications, and many more.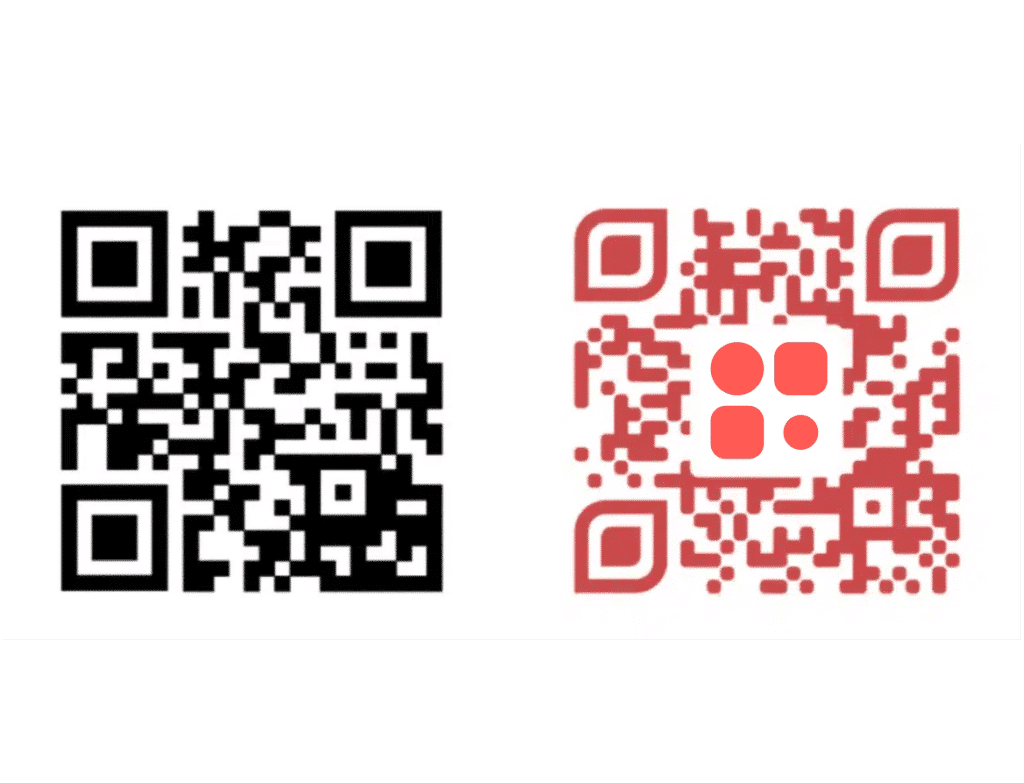 QRs are usually black and white but there are QR code generators like QRcodeKit.com that allow users to create and design their own codes. If that's something you're interested in, read their guide here.
How to scan QR codes on iOS devices
Scanning QR codes on an iOS device is very easy. The process is consistent across different versions of iOS, which is the operating system used by Apple in their devices such as iPhones, iPads, Mac computers, Apple watches, among others.
Here's how you can do it:
Step 1: Open the Camera app on your device.
Step 2: Hold the camera lens in front of the QR code you wish to scan. Do not move or adjust your grip for 2 to 3 seconds or until the camera has fully scanned the QR code.
Step 3: You'll know it has scanned a code when a notification banner appears at the top portion of your screen.
Step 4: Tap on the notification banner to open the page, app, or form that the QR code is leading you to.
What to do if your iOS device is not automatically scanning QR codes
If you're unsure about which iOS version your device currently has, you can still try scanning QR codes with your camera by following the steps above. However, if your device does not respond to the QR code, this might mean that you still have to manually enable QR code scanning on your device.
Simply follow the steps below to enable QR code scanning on your device:
Step 1: Launch the Settings app on your device.
Step 2: Scroll and tap 'Camera'
Step 3: Next to 'Scan QR Codes,' tap the button to turn on QR code scanning. The toggle button should turn green.
If there is no option for QR code scanning in your settings, this might mean that your device is not capable of scanning QR codes natively. This might be due to an outdated iOS or model. To remedy this, you can update your iOS.
Apart from your device camera, you can also use the iPhone Control Center to scan QR codes. Visit Settings>Control Center>Customize Controls. Now, select the add sign (+) next to the in-built QR code reader and you're done!
You can also use Google Lens to scan QR codes provided you have the Chrome app installed on your device. This is a classic example of using a third-party QR code reader. For further suggestions about QR code readers you can take a look at this article about the best QR reading apps.
How to generate your own QR codes
QR codes have a variety of uses since they can hold different kinds of data and are able to create quick and effective engagement between a brand and potential consumers. They're useful for personal business, too, such as for use in business cards, portfolios, and the like.
Some ways you can use QR codes are:
To display simple text such as welcome messages at events or gatherings
To direct contacts or customers to a home or business address
To display information such as phone numbers and email addresses for a business or individual
To direct to a specific URL (website, blog, terms and conditions, etc.)
To direct to an app's download link via Google Play or App Store
To store payment information such as bank account or credit card information
For WiFi authentication details such as SSID, password, and encryption type
For discounts and promo codes
To send emails or messages once a QR code is scanned (used in advocacy campaigns, customer support, and promotional opt-ins)
If you're interested in learning how to create your own QR codes for your business or personal use, follow these simple steps:
Step 1: Select a QR code generator. We recommend QR Code KIT Dynamic QR code Generator
Step 2: Choose the type of QR code you want to make.
Step 3: Fill out the corresponding form with your data.
Step 4: Download a dynamic QR code so you can update and recycle your QR anytime.
Step 5: Customize your QR code to fit your brand or personal style.
Step 6: Test the QR code using your devices to make sure there are no scanning issues.
Step 7: Download dynamic QR code so you can update and recycle your QR anytime.
Step 8: Share and distribute your QR code.
Step 9: Track the performance of your code and analyze related data. This will help you improve and adjust subsequent marketing/promo efforts.
So how do QR codes work?
Did you know that QR codes date as far back as 1994? The idea for QR codes originated from Japan's automotive manufacturing industry as a way to effectively track car parts that were being manufactured. It was invented by Masahiro Hara from the Japanese company Denso Wave, as a response to the need for a better system than barcodes. Since QR codes can hold 200 times more information than barcodes, they continue to be widely used today.
Upon learning about the use of QR codes to fight the coronavirus pandemic, Hara reportedly told The Guardian that he is 'really pleased that it's being used to help improve people's safety.' (Learn about the different ways QR codes were used to make medical services and resources available to people during the pandemic here.) If you own a business or establishment, you can also create a health assessment or contact tracing QR code to help stop the spread of disease.
Using dynamic QR codes in business
Because of how simple it is to scan QR codes, a lot of businesses use them to reach customers. Today, anyone with a smartphone can scan a QR code and access substantial information that would otherwise be too much to print or publish or even deliver as voice overs on radio or TV ads.
They are also very cost-effective, as a dynamic QR code can be updated anytime. This means that you don't need to reprint materials. Even if you've already printed your QR code in a magazine or elsewhere, you can still update it! Cool, right? That's the magic of QR code dynamism.
As opposed to static QR codes, dynamic QR codes are infinitely recyclable. The science behind 'recyclable' QRs was a pioneering effort on the part of QR code developer QR Code KIT.
Dynamic QR codes are particularly helpful to businesses who want to constantly track their progress. Once a dynamic QR code is created, it generates a short URL which links to specific content such as a website, contact, form, app, or anything similar. Apart from being recyclable, this URL also keeps track of important data such as:
When the code was scanned
Where the code was scanned
How many scans it received
What type of operating system was used to scan it
What type of mobile device was used to scan it
What type of browser was used to open the notification
Age and gender of the person who scanned it
This type of statistical data is updated instantly through a dynamic QR code, making it an effective tool for businesses. Such data can provide valuable insights on consumer behavior, demographics, preferences, and the like. Based on these, a brand can focus on specific locations and age groups where it might have a growing audience or increase marketing efforts on specific dates and seasons according to consumer behavior.
To increase the appeal of QR codes, you can even change the color and shape of your code, add a color gradient, and even add a logo with QR Code KIT's QR code generator.
For more information about QR code Analytics, click here.
Types of dynamic QR codes
Dynamic QRs can be linked to various content, from menus to YouTube videos. Some examples are:
Restaurant Menus
You can create a contactless menu by uploading PDFs and images and then connect it to WhatsApp to allow your customers to order, PayPal or Stripe to receive payments, and Google Reviews to get ratings and feedback.
To get started, simply:
Upload your Menu
Print the QR code
Place it on table tent cards, posters, and napkins, anywhere your customers can easily see it
Popular food services that use QR Code KIT for their QR codes are McDonald's, Burger King, Subway, Nobu, Restalia, and thousands more. For detailed information on how to transition your menu into a contactless one, read the guide here.
COVID Forms
Virtually any establishment can employ a QR code system to gather important healthcare information through health assessment and contact tracing forms. Create a safe, COVID-free zone for your clients by ensuring there's a self-check-in and health QR code form upon entering your doors.
Visitors can simply scan the QR code with their smartphones, fill out the form, and be granted access to the establishment upon clearance. Infected or sick visitors can be assisted and contact tracing efforts can be deployed.
Creating a COVID QR code form is easy and free of charge with QR Code KIT. Read the full instructions here.
Websites
The most common type of QR code easily links to a webpage, blog, or social media page. You can also use your shortened URL the same way you would use one from bit.ly or Google's URL Shortener. For maximum brand recall, you can also customize your QR code by using your website or brand colors and adding your brand name to the link.
This type of QR code is extremely useful to the following industry sectors:
FMCG Companies
Hospitality Sector
Real Estate
Restaurants
Independent Professionals
Ad Agencies
vCards
vCards, or 'virtual business cards,' allow you to share your contact information. Unlike physical calling cards that can easily get lost or thrown away, vCards allow your contacts to instantly download your information straight into their device's address book. Networking is so much easier and cost-effective because there's no need to print and carry around a set of business cards every time.
With QR Code KIT, you can add the following information in a single QR code:
Profile photo
First and last name​
Title
Mobile number​
Company name​
Address​
Zip/Postal code​
State/Province​
Country​
Website​
Facebook
Twitter
Instagram
LinkedIn
YouTube
Yelp
Downloadable Files
Upload any type of file for your contacts or customers to download. You can easily share files such as PDFs, MP3s, JPEGs, PNGs, Docs, and more! No need to attach files via email or worry about file size. For more tips and tricks on how to maximize QR codes for your marketing campaigns, read more here.
Social Links
Keep all your social media info neat and tidy in one place for interested clients to follow. With a single QR, you can include your Facebook, Instagram, Linked In, Twitter, Snapchat, TikTok accounts, and more. When someone scans your code to learn more, a list pops up so they can choose which platforms they prefer. QR Code KIT supports a lot of platforms, so you'll be sure to maximize your QR code by adding as much as you like:
Facebook
Twitter
Instagram
YouTube
Skype
Xing
Flickr
Pinterest
Google+
LinkedIn
Dribble
Reddit
Tumblr
WeChat
Github
YouTube
Link your audience to a movie trailer, music video, or tutorial on your YouTube channel. Easily grow your audience by linking a single video or your channel. All types of content creators can use this QR code, from gamers to beauty gurus, DIY-ers, cooking channels, and language channels.
Upon scanning the QR code, YouTube opens and automatically plays the video. Some of the most effective types of content for this method are:
How-to videos
Pet videos
Movie trailers
Music videos
Podcasts
Product reviews
Product comparison
Fitness tutorials
Introductory videos
Educational videos
Testimonials
Holiday/seasonal greetings
QR codes can be used in marketing, informational, and promo campaigns for companies, nonprofit organizations, government units, healthcare organizations, and even by independent creators like artists and musicians.
21 creative ways to use QR codes
Clickable Social Media URL
If you're a social media influencer, or represent a brand that has multiple online profiles, a clickable social media URL could be a game changer. Create a pop page which houses your entire social media presence across different platforms. Condense its URL into a QR code with QR Code KIT. Once your followers scan the QR, they get access to everything you've done on Instagram, Facebook, Pinterest, etc. The best part? You can add the QR code to your business card, and allow physical sharing of your work, anywhere, anytime!
Packaging
Research shows that product packaging does affect consumer behavior. In fact, consumers associate good packaging with high-quality products. On top of great packaging, a QR code is an effective way to further market your brand.
Level up your packaging by printing a QR code that will engage your customers even further. You can add incentives such as discount codes, or include more information about the product such as tutorials, reviews, recipes, nutritional data, and the like
Posters, Flyers, and Brochures
Print materials used to rely on conveying information in such a small space. With the help of a QR code, you can keep your copy and visuals tight. There's no need to crowd your materials with information because with just a scan of a QR code, your customers can easily access more information.
Public Transport
QR codes are a great way to give commuters updated information on when the next bus, train, or subway will arrive. It's an efficient way to organize information and commuter traffic with just one scan of a QR code printed on a bus stop, train station, or subway station. Research is also being done in implementing a QR-based ticketing system to improve public transportation systems around the globe. Learn more about how the city of Antwerp enhanced its public transportation system with QRcodeKit.com.
Groceries and Drugstores
Wouldn't it be a dream if all groceries and drugstores had QR codes next to packaged foods, health and wellness supplies, supplements, and the like? With just one scan, consumers can easily find more information about nutrition, recipe suggestions, outfit suggestions, sizing charts, etc.
Hiking and Walking Trails
QR codes can be a great way to give hikers and tourists more information about a trail (distance, climate, rest stops, etc.). Codes can link to information pages, videos, or can even contain crucial information such as emergency contact details in case of accidents.
Museums
Don't paintings and sculptures usually have a little card beside them? What if more museums used QR codes to link to more information about an artwork's historical context, artist, materials, and other relevant information? Or even link to merchandise such as a keychain, pen, or mug souvenir containing the artwork?
A Polish museum previously used QR codes to 'bring paintings to life' with the help of augmented reality. As a result, younger people (their target market for the campaign) who previously didn't find museums that interesting really enjoyed the exhibit and resulted in even more foot traffic for the museum.
Self-Guided Factory Tours
QR codes are still being used in factories today to optimize manufacturing processes and keep track of production. For factory tours, however, it would be nice if a visitor can simply scan a QR code to learn more about a machine or manufacturing step. The possibilities are endless, starting with 'How It's Made' type videos to interactive maps and augmented reality applications.
Gravestones and Historical Sites
Did you know that QR codes are already being used to memorialize departed loved ones? A Seattle-based funeral services company specializes in headstones that blend QR technology with memorial services in an effort to keep memories of a departed family member alive. Likewise, QR codes are used on historical sites and historical graveyards to give visitors more information about the site such as its significance, story, and historical background.
'For Sale' Signs
QR codes can be a realtor's best friend. With a quick scan, potential buyers can access contact information, a sell sheet, and maybe even a video walkthrough. This way, interested buyers can already preview the property without the need to book an appointment. If they're interested and want to know more, they'll know how to contact you.
Conferences and Events
QR codes are a great informational and organizational tool. And there's no other event that needs mega-doses of information and organization than a full-blown conference! With the help of QR codes, organizers can easily update information posted on breakout rooms and conference halls to inform attendees about next sessions, topics, speaker bios, seating capacity, etc.
E-learning
Educators are also using QR codes to reach out to existing and potential students. QRs are a great way to maintain contact, as a simple scan can allow a student to opt-in to accessing course emails and related information. Discover how dynamic QR codes can help educational institutions.
Wine, Coffee, and Other Beverages
Wine connoisseurs and coffee enthusiasts alike are very particular about sourcing, processing, and manufacturing. QR codes would be beneficial in letting consumers know about the vineyard or farm where their last cup or glass originated from. This can also include interesting information in the form of videos and articles about fruit growing and harvesting. This can also be used for craft beers, kombucha, and other beverages that have a niche market and cult following. Read more about the endless opportunities enabled by QR codes on bottles and cans.
Sustainable Clothing and Fashion Products
To encourage more people to support sustainably produced clothing and fashion products, brands can engage them with process videos, interviews, virtual walk-throughs, and other immersive experiences that allows more people to understand the importance of sustainability.
Recycling Bins and Machines​
Organizations can encourage more people by incentivizing recycling through vouchers and discount codes or refunds given via QR codes. H&M already does this by encouraging people to donate used clothing in exchange for discount vouchers to be applied to their next purchase. So does Pfand, a recycling initiative in Germany that rewards people by giving them part of their money back when they return a used beverage bottle through one of Pfand's recycling bins.
Store Displays
QR codes are great to place on your storefront to engage window shoppers or those who've chanced upon your store after hours. You can lead them to your online store, website, or social media pages to make sure that interaction doesn't go to waste.
Gyms and Fitness Parks
Gyms can be very intimidating to newcomers who may not necessarily know how to use different kinds of equipment yet. QR codes on gym equipment containing instructional videos and materials regarding proper form and technique, repetitions, and appropriate weight can help gym-goers feel more comfortable in a fitness establishment. QR codes can be placed in common areas, too, for people who might be too shy to ask for help from a fitness instructor.
Interactive TV and Online Ads
Interactive ads and shows already exist but having a QR code can also be a fun, engaging way to interact with a brand's audience. Since most people watch TV or online shows with their phones not too far away, a QR code built into an ad or show might translate into a lot of engagement.
Wedding Invites
Wedding guests can simply RSVP with the help of a QR code. No need to mail back an RSVP card, no hassle. Some couples even go fully digital by sending digital invites with QR codes that link to either an RSVP card, social media (such as a Facebook page), Zoom, or YouTube link where guests can easily access more information about the event and interact with the couple.
Petitions and Advocacies
QR codes are a great way to ask people to sign petitions and support advocacies. Through a simple scan, interested parties can pledge their support by affixing their signature, sharing on social media, or donating funds to the cause. All of these can easily be done with the help of a dynamic QR code that can house links, payment info, and other needed data.
Tattoos
Okay, hear us out. While a permanent tattoo of a QR code containing your information (or favorite song) is borderline genius, we're not talking about permanent ones. Temporary tattoos can be a great marketing gimmick for events such as music festivals, blind date mixers, or parties. Organizers can give participants their own QR code upon registration and attendees can use these to swap information and network in a fun way.
Concerts, Parties or Music Festivals
QR codes can be flashed on huge screens behind the DJ or artist so people can directly purchase on Apple Music, listen on Spotify, or buy a physical copy from Amazon. It's a cool way to instantly engage audiences and encourage them to buy.


To start revolutionizing your business with QR codes, sign up for your FREE 14-day trial with QR Code KIT today.