Christmas is a magical time of year, filled with anticipation and joy. It's also an excellent opportunity to tap into consumer spending by creating effective marketing campaigns to maximize the holiday spirit! One smart way businesses can leverage Christmas holiday sales is by using QR codes. When used correctly, these neat little barcodes can help you build relationships with customers, engage them with personalized content and offers, and get creative about driving ROI for your business.
In this blog post, we'll share tips on making the most out of QR codes in Christmas season – from valuable insights around customer behavior to inspiration for using code scanning in innovative ways. Read on, but here's one tip: start now! Get set up, so you're primed for maximum seasonal engagement right when it matters most.
So without further ado, let's get started!
1. What are QR codes, and how do they work?
QR codes are a type of barcode that can be scanned by smartphones and other mobile devices to access data. A QR code can reveal valuable information about businesses, products, or promotions when scanned. During the holiday season, QRs can boost customer engagement and increase ROI.
2. How can businesses use QR codes to engage customers during Christmas?
QR codes can be a great way for businesses to engage with customers and generate higher ROI during Christmas. By leveraging QR codes, businesses can generate personalized offers and experiences customized to their clients.
For example, businesses can create unique rewards for shoppers who scan QRs at their stores. This could include discounts on products or services and exclusive offers and coupons specifically tailored to the customer.
Additionally, businesses can further incentivize clients to use QR codes and increase customer retention by creating a loyalty program where clients are rewarded for each scan.
Also, remember that Christmas sales are right around the corner; you can bring your fans back to your store with special event details for the post-holidays.
3. Tips for using QR codes in Christmas marketing campaigns
Bring your campaign to the next level with augmented reality QR codes
Augmented Reality (AR) combined with QR codes presents a novel and engaging approach for Christmas campaigns, offering a unique blend of digital interaction and real-world experience. Businesses and advertisers can leverage this technology during the festive season to create immersive and memorable customer experiences.
QR codes can be strategically placed on products, in store windows, or in holiday catalogs. When scanned with a smartphone, these codes can unlock festive-themed AR experiences. For instance, a QR code on a Christmas card could reveal a holiday greeting floating above the card when viewed through a phone screen.
Retailers could use AR-enabled QR codes to display virtual try-ons for clothing or to show how furniture and decorations would look in a customer's home. For children, AR experiences can bring the magic of Christmas to life in a new way, such as by animating the characters from a favorite holiday storybook.
Furthermore, these campaigns can be easily shared on social media, increasing the campaign's reach and engaging a broader audience. This blend of AR and QR codes fosters a sense of holiday wonder and aligns with modern consumer expectations for interactive and tech-savvy shopping experiences.
We have partnered with our good friends at RealityMAX to provide you with a ready-to-use AR experience for your audience: grab this augmented reality link and add it to a QR code to enrich your Christmas communication.
Even better: get a free account on RealityMAX and use their festive models to create a personalized AR campaign with your logo and a custom message or an interactive 3D that you can embed in your site. It's so easy that a kid can do it. No code, no downloads, just pure amazingness!
Get creative with your QR code designs
One way to make your QR codes stand out during Christmas is to get creative with your design. This could involve using festive colors or designs or even including Santa or other Christmas characters in the code. You could also use holiday-themed fonts for a more playful look.
Make sure your QR codes are scannable in low light
When using QR codes in Christmas marketing campaigns, it is crucial to ensure the code is scannable in low light. This can be done by checking that the QR code has enough contrast between its black and white components, which helps it stand out more in lower light conditions. Additionally, businesses can use bright color schemes or backlight.

Also, remember to download your QR code with the best printing quality. Normally, the recommended format is the SVG.
Make use of special offers and discounts
Another great way to use QR codes in Christmas is by offering special discounts and deals to customers who scan them. This can boost sales and increase customer engagement.
A simple link to an extra 10%-20% with a coupon code inside a QR can help your average ticket increase significantly. That's only one idea for being more engaging with your shoppers.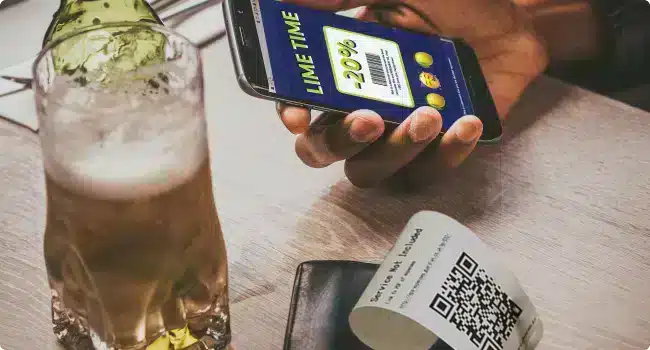 Businesses can make their customers feel extra special with a Christmas QR code. Celebrating Christmas with loved ones is just great, and celebrating with extra help improves the holiday mood.
Add a personal touch with custom messages
QR codes offer a unique opportunity to include personalized messages for customers. By adding a message like "Merry Christmas!" or "Thank you for being part of our family this year," businesses can make an extra level of connection with their customers.
A Christmas card with a QR code that redirects to special messages on your website is a nice and very easy-to-create gift for your clients.
Place QR codes in strategic locations for maximum exposure
When it comes to increasing the effectiveness of QR codes during Christmas time, one of the most important considerations is where to place them. Showcasing them strategically can help get maximum exposure and encourage shoppers to scan them.
One key location for placing QR codes in Christmas is near a store's entrance or a checkout area. This ensures that every customer who visits the store is exposed to the QR, increasing its exposure and potential ROI.
Additionally, businesses should leverage their social media presence by placing QRs on their websites and in promotional materials. This will allow clients to scan the QR and be directed to special offers or information about the business.
For big brands that showcase their Christmas guide in some centric locations like big street displays and giant screens on main streets, other locations could include busy areas, such as shopping malls and public squares, where there is likely to be a high footfall of potential buyers.

Placing a QR code on the screen or display will increase the probability of consumers checking the product even when they are home! Also, adding a QR in your promotional material that lets your shoppers know where your nearest store is will help increase your store's footfall.
Urge customers to share their experiences on social media
One of the most powerful ways to leverage QR codes in Christmas marketing campaigns is to urge customers to share their experiences on social media.
By asking shoppers to share their experiences after they have scanned and interacted with a QR, businesses can build an incredible amount of user-generated content that can be used to promote their products and services.
Add a social media QR to your business page and print material. That way, you can let your clients find you on different mobile platforms such as Instagram, Twitter, TikTok, or Facebook.
You can also engage with your consumers with videos of DIY or challenges for this Christmas, which will boost sales! Christmas QR codes are a fun way to share happiness differently!
4. Are there any potential drawbacks to using QR codes during Christmas time?
Using QR codes in Christmas can have potential drawbacks that businesses should be aware of. One of the first drawbacks is that scanning a QR code requires customers to have a smartphone handy. This means that shoppers who do not own such devices won't be able to access the promotional materials associated with the code.
But let's be honest, who nowadays doesn't have a rectangle screen in their pockets? In the most probable situation, the person might be shopping with their smartphone in their hands! You need to place the codes smartly, in a place where they might be more willing to scan it, closer to the cashier offering a discount, in the fitting room to ask for another size or a complement product, in the streets calling out to come inside the store with a discount QR code and much more.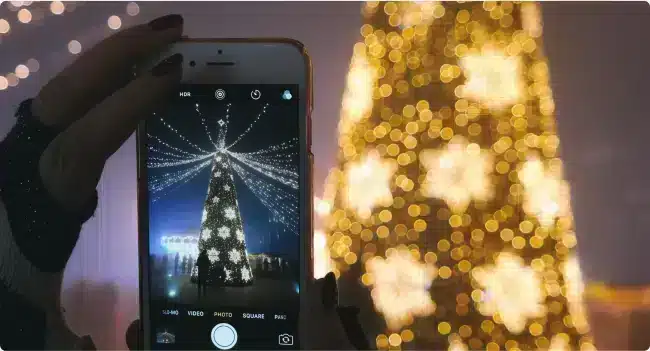 The biggest drawback business can face when using QR codes in Christmas, and actually, any situation is using static QR codes. Many QR code generators are free, but they give you static QRs. With this type of QR, you cannot change or update anything about its content; worst, you cannot track its performance.
With static QR codes, you would waste a lot of money placing the codes in flyers, displays, and more without knowing how effective they were. So, this could probably be the biggest drawback of using QRs: the cost of wasting money on static QR codes.
The bottom line is to be careful when choosing your QR code generator.
5. How can consumers make the most of QR codes in Christmas shopping and festivities?
Consumers looking to make the most of QR codes in Christmas shopping and festivities can do so by taking advantage of their convenience and accessibility. By scanning a QR code, consumers can quickly find information about products and services and access promotions and discounts that may only be available through reading the code.
Furthermore, with QR codes, there are several additional ways that consumers can make the most of their Christmas shopping and festivities. For example, businesses can develop a loyalty program that rewards customers for scanning and interacting with the QRs.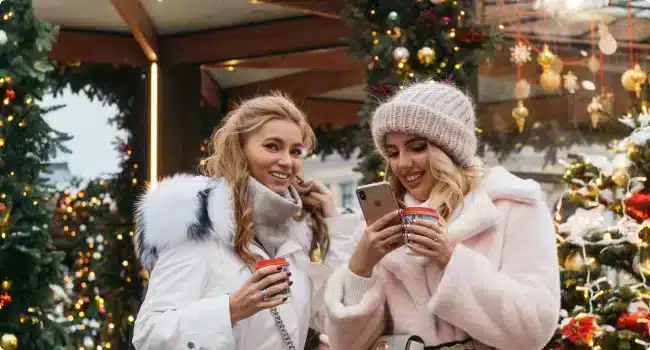 This encourages consumers to use the QR more often and gives them the incentive to shop at their store over others. A loyalty program with a QR code can give clients exclusive access to promotions that can't be found anywhere else. This could include discounts, early access to new products, or special offers and services.

Additionally, consumers can make the most of QR codes in Christmas by using mobile wallet payment options. With Apple Pay, Google Pay, or Samsung Pay, customers can quickly and securely scan the QR code they receive from a vendor and pay with their connected bank accounts or credit cards.
6. Examples of QR codes used in creative ways this Christmas
QR codes for family and friends
Christmas cards and greeting cards go hand in hand. Why not add a little QR code to the mix? Let your loved ones know how much they mean to you by making your greeting card special and unique. Create a QR code to an MP3 file of your own Christmas carol or a QR code to a YouTube video that shows how your cat or dog is preparing for New Year's Eve.
Your loved ones will be delighted with this creative way to spread love and give gifts. One QR code in your Christmas cards is the simplest idea, being more innovative and funny.
QR codes for fun and games
Here's a little QR-based game to play with your kids to celebrate Christmas differently. First, create many QR codes, print them, and hide them all over the house. Then, link QR code 1 to a picture that shows where QR code 2 is. Do the same for QR codes 2, 3, and so forth up until the last one that shows where Santa has left his big old bag full of presents! With a QR code scavenger hunt, your children will learn about the technology while having fun with it 🙂.
Make Christmas cards with QR codes in the back to play on Christmas Eve with your family and friends. Hide tips and tricks to play all night, and add Google Drive links to your photos or stories, so each time someone scans the code can find out about the next hint.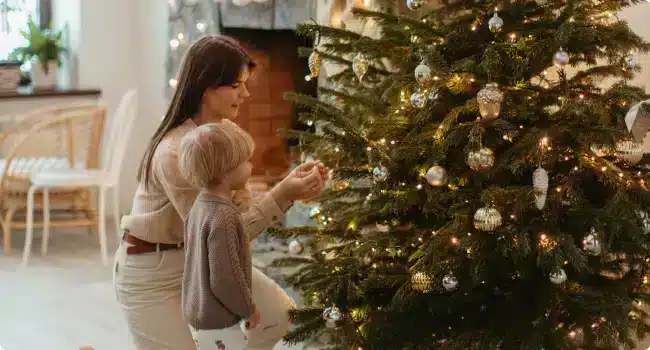 Scavenger hunts can also work inside stores. Imagine your stores full of QR codes hidden in specific locations so your visitors can find discounts and prizes when shopping.
QR codes for the advent calendar
Using QR codes for an advent calendar can be a creative and fun way to add a unique touch to the holiday time.
An advent calendar is traditionally used to count down the days leading up to Christmas, usually with a daily treat or activity hidden behind each window.
By introducing QRs into the mix, you can expand these treats to the digital world! Imagine an advent calendar where QRs take you to a daily promo of your favorite video game, where you can get new skins or upgrades.
You can add YouTube videos with new hints or stories about your brand or a free sample. This fantastic digital calendar will take your marketing to the next level. Imagination is the limit for this holiday shopping.
QR codes to stay in touch
Some may be unable to join their families and friends this Christmas. But that doesn't mean they can't be in touch. QR can bring us together. Scan one to access a video community to hang out with your loved ones and celebrate!
QR codes in Christmas elevate the spirit to a whole new level.
QR codes for contactless marketing
QR codes are the number one tool that makes contactless marketing possible.
Mobile payment is a given nowadays. It's secure and, most importantly, fast since we all have our smartphones ready to make a purchase.
QR can improve the whole experience for your consumers and your business. You can link the QR code to your e-commerce, a discount coupon, or a catalog showing all your products. Customers will be delighted to get what they want instantly. Businesses can track their campaigns and even generate leads.
Christmas campaigns with QR codes are simply the smartest option.
QR codes for seasonal promotions
Sales like Black Friday and Cyber Monday are huge events that happen all around the world.
We can relax and enjoy the holiday deals by scanning a QR code to a coupon or clicking/tapping its short URL right from our homes. It's as simple as that!

The holiday season is the right time of the year to place any QR code in your promotional PRINTED materials, Christmas card, or even wrapping paper!
QR codes for networking
Thanks to social media platforms, we can all have a sense of camaraderie with one another.
With QRs, your target audience can instantly follow you wherever you are. By doing so, they will be able to stay updated about all your news and, most importantly, when those special deals are taking place during this holiday.
Engage with them and start your networking journey with a social media QR code. Social media QR codes are simply the best option to be spotted by your fanbase on all your social media platforms at the same time.
Not even Santa Claus can lose you!
Final thoughts on using QR codes in Christmas
QR codes are an easy and interactive way to connect with shoppers, especially during Christmas. By using dynamic QR codes in displays, flyers, gift cards, packaging, and more, you can engage clients with extra discounts or loyalty points for their Christmas shopping while also being able to track the success of your campaign.
Did you know about dynamic QR codes and their power at Christmas and holidays? If not, we hope this blog post has given you some ideas for using them in your business.
As always, if you need help implementing any of these strategies, our team at QR Code KIT is here to help.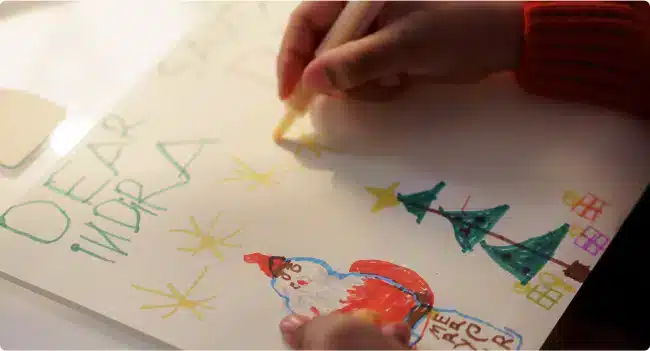 Contact us today to get started and create your Christmas QR code!
In your QR code Christmas, the sky is the limit!
Don't forget to ask Santa Claus for your unique QR code.
Merry QRistmas and happy 2024!