QR code marketing enhances your mobile outreach with dynamic QR codes
We will look at:
How they link the digital and physical worlds.
How they can be used to receive info from customers.
How they are more affordable than other internet-of-things (IOT) options.
How they can be connected to any type of digital content.
How they can be customized.
How their information can be tracked.
How major organizations are using them.

Dynamic QR codes provide an affordable, editable, customizable and trackable way to make your business more accessible for customers. The initial buzz may have worn off, but that's because QR codes have gone from novelty to necessity for businesses ranging from large corporations to small mom and pop shops.
Let's go over how these funny looking little squares can be a boon for your business. Let's jump in!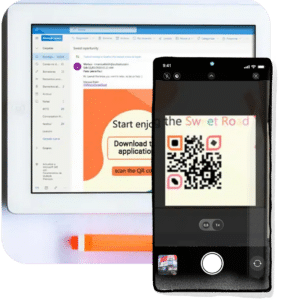 A physical link to the digital world
Think of a QR code as a square URL. They give customers access to a piece of content on the internet from wherever they happen to see the code. It could be a poster or a sticker posted somewhere in the physical world, but it instantly takes them to a website, vCard, YouTube video, customized Google map or some other piece of content online.
Customers simply scan the code with their ever-present phones and they're immediately taken to the content. It's the internet-of-things come to life.
Dynamic QR codes can be a two-way street
You know QR codes are a convenient way to provide information to customers, but did you also know that they can be used to receive information from customers?
Connect your dynamic QR code to a survey or some other form where customers can give you their feedback on products and services. Customers love when you listen to them and this is another way of fortifying that important customer/business relationship while getting some valuable information.
Dynamic QR codes are your affordable IOT option
Connecting the physical and digital worlds together to form the internet-of-things has been a goal of many businesses for years now.
And while things like augmented reality (AR) and near field communication (NFC) devices provide this connection, they are expensive and difficult to manage because they have a lot of different pieces to them and they rely primarily on the users to work.
How do I make one?​
Whether you want one QR code or a thousand QR codes, it's inexpensive to register to a QR code generator and purchase a plan.
And unlike those single-use coffee cups millions of people toss out everyday, Dynamic QR codes are completely reusable. You can change their content whenever you need to without having to reprint them.
For example, you can have a QR code created and printed on a poster to help advertise that you hold events. The QR code's information can be updated whenever you have a new event so the code always takes people to the information for your upcoming event, no matter when it is.
The savings in printing costs alone is worth it.
The world has caught up to dynamic QR codes
QR codes are a normal part of life now. (People even get them as tattoos.) They're almost as ubiquitous as bar codes and virtually every phone has a built-in QR code reader now. People have the ability to easily scan them and that means they have the ability to gain easy access to your company information, no matter where they are and no matter what information you want to give them.
And don't forget that dynamic QR codes are reusable because you can change where they link to! That means you don't have to reprint your material. Cost savings! If your blog moves to a new URL or you want to change your coupon offer or you've recorded a newer version of your how-to video or your vCard information has changed, you can simply change where the QR code points to.
You can customize your dynamic QR codes
You love to put your logo on things, right? Of course you do! All businesses love to brand things and you can brand QR codes. Add your logo, create them with your brand's colors or change the patterns to something super eye-catching. Creating your own custom QR codes will snag the attention of your targeted audience and boost your brand identity. Can you say win-win?!
You can track and measure dynamic QR code statistics
Marketing campaigns are useless if you can't track them to see how well they've performed. Fortunately, dynamic QR codes are completely trackable, meaning they register the date, location and type of device used to scan them in real time so you can see the impact of your marketing and adjust things as necessary.
Dynamic QR codes are the ultimate mobile marketing tool
With their affordability, customizability, reusability and trackability, dynamic QR codes are a must-have tool for any small, medium or large business to communicate with their audience and increase engagement.
From their humble beginnings as funny looking little squares to their place as an internet staple, QR codes are not only here to stay, they are a crucial part of a comprehensive marketing plan.
Ready to use dynamic QR codes?
Now that you know how amazing dynamic QR codes really are, let's see how we can help your business grow with a customizable and trackable dynamic QR code from our QR code generator.
It takes only 5 minutes to go from zero to customized QR code with QR Code KIT. We've been hooking up major corporations, small businesses and all other types of organizations with QR codes since 2010 and we have over 250,000 users worldwide. We offer affordable plans to create and manage dynamic QR codes that can be edited, personalized and measured.