Let's take a look at some of the ways you can get the most out of QR codes for hotels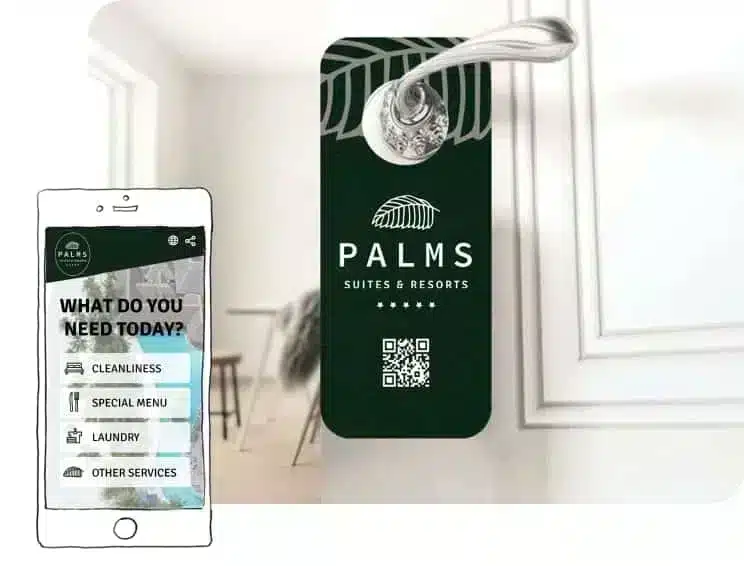 Engage your guests with QR codes for hotels and resorts
Bed & breakfasts, hotels, motels, hostels, spas, resorts, ski lodges and more can all benefit from the use of QR codes for hotels. Engage your guests and make their stay truly memorable so they'll tell their friends and family about the wonderful time they had there.
Look at some examples of QR codes for hotels below to get inspired!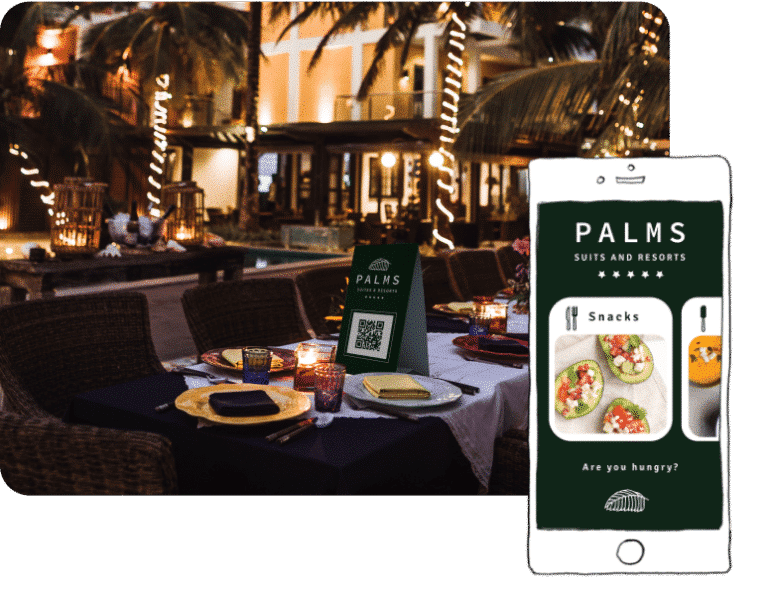 Get your menu mobile-ready
A fantastic restaurant is an important part of providing guests with the best possible experience. Give your guests the option of keeping your menu within easy reach on their phones with a Menu QR code.
Upload multiple menus so guests can peruse food, drinks, desserts and seasonal specialities on PDFs they can download to their phones. Print your code on table tents in the rooms and distribute it on your promotional materials. If your menu changes, just upload a new PDF. It's so simple.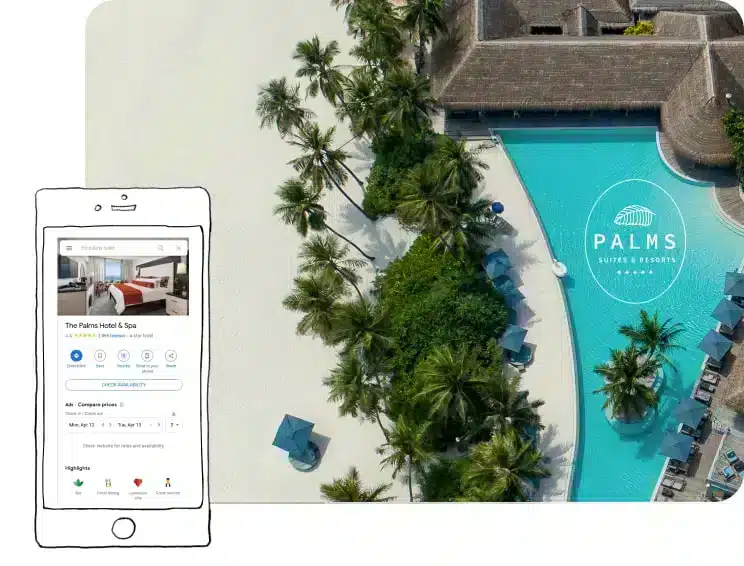 Help visitors find you easily
Ski lodges and bed & breakfasts tucked away in the countryside might be a little difficult to find for some travelers. Make sure they get to your place safely by providing visitors with a Google Maps QR code that leads them straight to your doorstep.

When visitors scan the QR code, it opens Google Maps on their phone (or opens Maps in a web browser) and shows them exactly how to get there. Put the code on your printed marketing materials and use the short URL in your website, emails, social accounts. Clicking or tapping on a code's short URL is the same as scanning the code!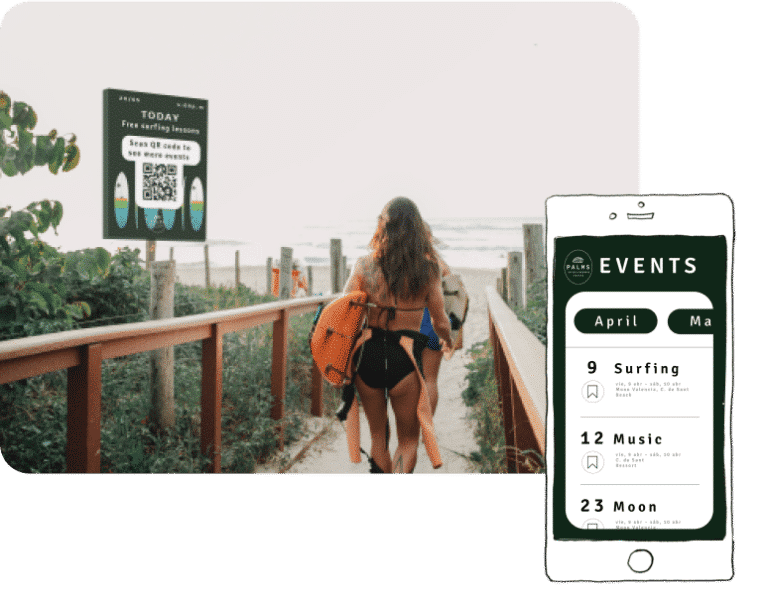 Bring more people to your events
Do you get can't-miss live acts that guests should see? Do you offer classes or tours? Let your guests know what is going on at your hotel or resort by providing a calendar of events for visitors through QR codes for hotels. You can either link a Website QR code to an events calendar online or opt for a Mobile Page QR code.

Edit the mobile page – that we host – into a monthly events list. Use text, photos, videos, links and lists to make your mobile page exactly the way you need it. Editing is easy. If you can handle a Word doc, you can edit one of these mobile pages 😉. Those who are fluent in code can dig into the HTML and tweak the page that way. Update your mobile page on a regular basis to keep it current.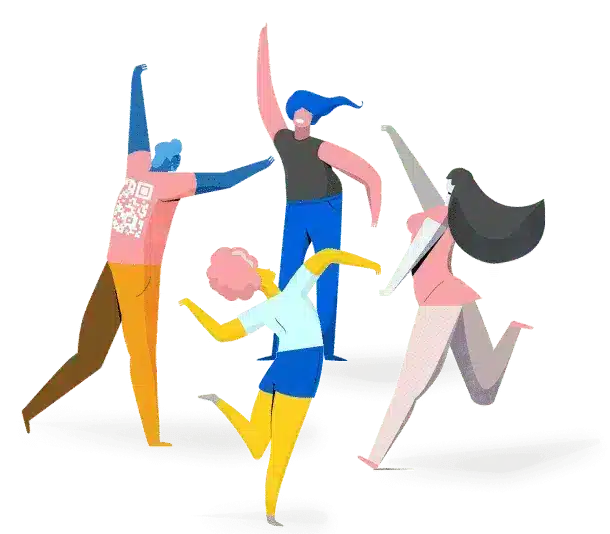 Join 350,000+ happy users!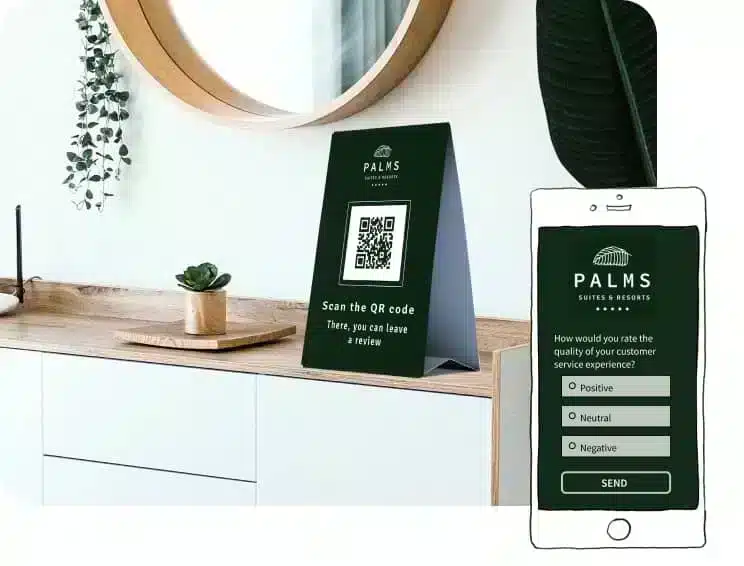 Collect business improving feedback
Gathering feedback from guests will let you know what's working and what needs improvement with your hospitality business. Easily garner feedback from guests with a Google Reviews QR code, which takes visitors to your Google listing when they scan it. There, they can leave you a review.
A positive review will get you some coveted word-of-mouth advertising and a critique will let you know something you can improve to offer even better services.
Alternatively, connect a Website QR code to a URL that leads to an online survey so your guests can scan it, fill it out and let you know what they think.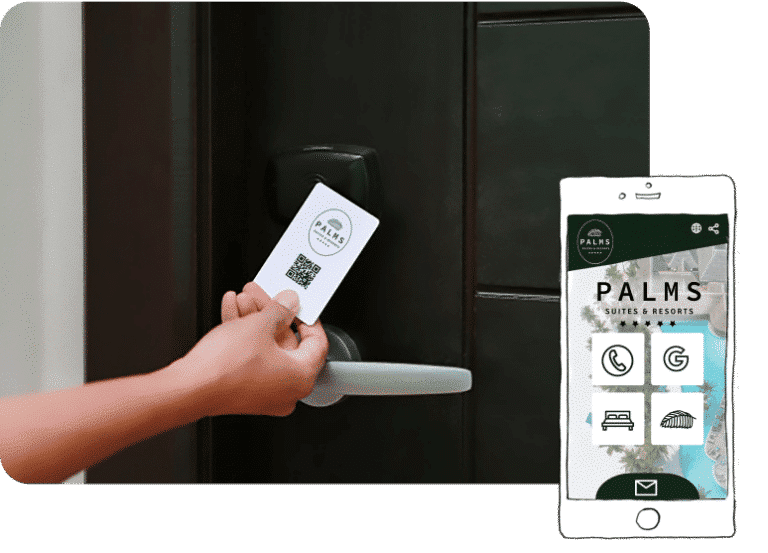 Print QR codes for hotels with a vCard QR code on your room key cards so guests who are out and about always have your location's information with them. With just a scan, the phone number, address, and all key info about your business can be saved straight into their phone's contacts.
This makes it easy for them, for instance, when they need to tell taxi drivers where they are staying. Using a QR code means you don't have to try and fit all the information onto a small key card.
Use QR codes for hotels with a Mobile Page QR code edited into an image gallery to showcase images and videos of your location. Give guests a glimpse of the rooms, spa, gym, golf course, ski slopes, bar, lounge, countryside, and all other amenities. If you just want to go the video route, opt for a YouTube QR code that links to a promotional video, or your entire YouTube channel if you have multiple videos.

If you want to go big, use a Website QR code and link it to a landing page or your entire website for folks to peruse. Place the code on your marketing material along with a snappy call to action.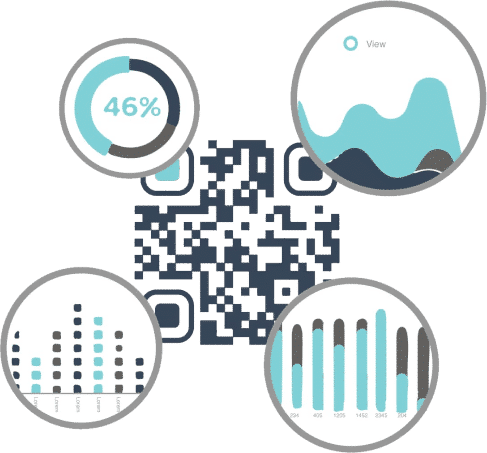 Your one-stop QR code marketing platform
From your QRcodeKit.com dashboard, take care of all your QR code marketing with as many team members as you like. Customize your QR codes with logos and brand colors and dig into the tracking data to see when and where your codes are being scanned and more.
Create QR codes that actually work for you
The possibilities are endless with a QRcodeKit.com Pro account: