TV advertising remains formidable, with some of the biggest companies in the world spending billions of dollars each year on ad spots. However, numbers show that digital media has since overtaken it as the top advertising choice based on global spending.
In 2015, TV ads represented 42% of global advertising expenditures. Digital media had the second-largest chunk, with 24.6%. In 2016, TV went down to 38.3%, and digital media jumped to 31.8%. Digital media almost caught up with TV in 2017 with a 36.6% and 35.6% share, respectively.
In 2018, digital media overtook TV at 39% to 34.9%, and it has not looked back. By 2024, online advertising is expected to make up 65% of all global advertising spending.
In the digital age, there's one way to get the best of both worlds: QR codes on screen.
Dynamic QR codes for TV is an efficient combination of these two very lucrative advertising avenues, and it is expected to help revitalize TV advertising in the digital age.
What are QR codes for TV?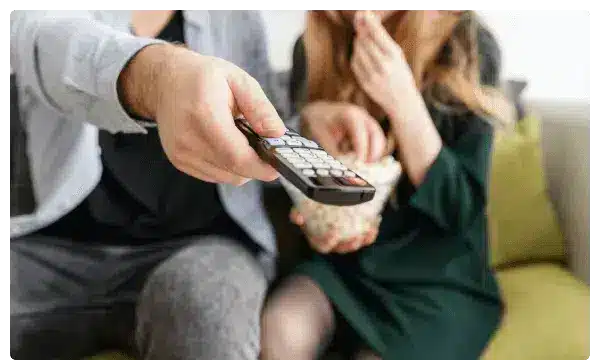 QR codes on TV allow companies to create an interactive experience for the audience. Applying QR codes on TV can be everything, from advertising to asking the viewers to interact with the show or follow social media accounts.
PRO TIP: QR codes (Quick Response Codes) are machine-readable images, normally in black and white pixels in a square grid, that provide information when scanned. Similar to the traditional barcodes, they were invented back in 1994 by the Japanese automotive company Denso Wave, and gained enormous exponential growth during the pandemic providing restaurants with a hands-free menu option.
QR codes on TV for advertising are designed to appear during a regular advertisement to encourage active participation from audiences. They may also appear on regular shows and programs to encourage public engagement, or during live events for a more interactive marketing approach. These QR codes are optimized and designed especially for television.
Why QR codes on TV work
If televisions had ad blockers, viewers would probably employ them more. Since there is no such thing, TV viewers turn to their phones when there are commercials. According to a survey, almost 80% of TV viewers check their phones during ad breaks.
Would they do the same thing when there are QR codes for TV ads/commercials?
The concept of QR codes for TV is similar to infomercials. They appear with an ad and encourage viewers to act, such as calling a number, clicking a link, purchasing a product, etc.
When you scan a QR code on your TV screen, it will redirect you to a website, app, or online store to purchase what you just watched an ad for.
These codes have revolutionized the TV experience. People watching a reality show can vote for their favorite contestant using a QR code instead of a call or text. Shows ask viewers to follow their social media accounts so they can easily keep up with the latest news.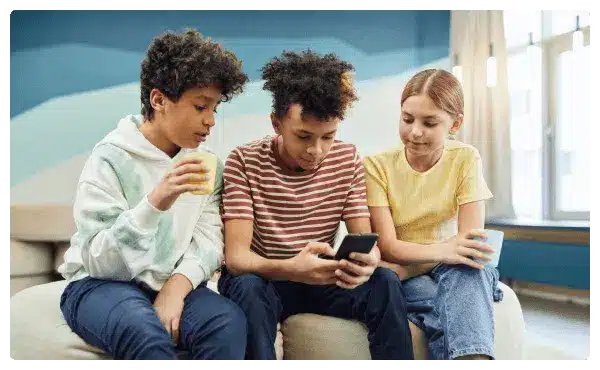 QR codes are also a convenient way to ask viewers for feedback or invite them to download a relevant app.
For many companies, it's about adding to the viewer experience. For example, the TV show Lego Masters flashes a QR code that links to "brick tips." As their audience watches the show, they can simultaneously get advice on building Legos.
The QR codes on TV experience is not limited to regular programs—they are used on popular streaming platforms, too.
To hype viewers for the new season of "Love, Death + Robots," Netflix integrated QR codes on various platforms—social media, billboards, digital platforms, and in the show itself. The QR codes lead to visual perspectives from the show that viewers can save or mint as an NFT.
Smartphones take attention from TV
It has become a habit for many people to look at their phones during TV commercial breaks. This is why advertisers have devised ways to use this consumer behavior to their advantage.
Integrating QR codes on TV is much like a marriage of convenience—the QR code is the officiant that joins the TV and the smartphone together.
While TV advertising spending is going down when compared to digital media, it's not going away. Even with the popularity of online streaming services, many people still turn on their televisions to watch NFL games and popular shows like This Is Us, NCIS, Law & Order, Grey's Anatomy, Yellowstone, and more.
If you want to grab viewers' attention during ad breaks, use QR codes on screen to take advantage of the fact that they will likely be using their smartphones while waiting through commercials.
TV commercials are typically only 30 seconds long. The relevant QR code should be onscreen for the entire duration to give viewers ample time to scan and follow the link.
Coinbase Ad during the Super Bowl
Super Bowl ads are among the most in-demand advertising spots in North America—they are also among the most expensive. For example, some 30-second ads during Super Bowl LVI cost as much as $7 million per spot.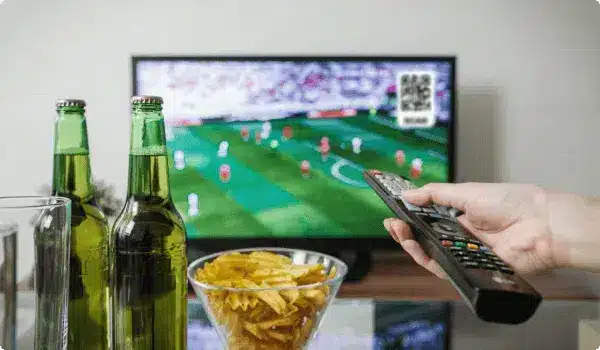 Advertisers hired huge celebrities to appear in their ads to ensure maximum impact for viewers. Movie star Scarlett Johansson and husband Colin Jost of SNL fame paired up on the screen for Amazon's Alexa commercial, while triple-threat Zendaya partnered with seashells for a Squarespace ad.
Zach Braff and Donald Faison had a Scrubs reunion for a T-Mobile ad, while Toyota had a hilarious race among the Joneses: Tommy Lee Jones, Leslie Jones, and Rashida Jones. Nick Jonas crashed the party, too.
Coinbase was the company that stole the show that night. For 60 seconds, millions of viewers couldn't take their eyes off the screen. If you haven't seen the ad, you will never guess the celebrity—because there was none! The Coinbase ad featured a bouncing QR code reminiscent of the logo that bounced on the screen when you turned on your DVD player.
Scanning the QR code took Super Bowl viewers to Coinbase's promotional website that offered $15 worth of Bitcoin when they signed up. They could also join a $3 million giveaway raffle.
It was undoubtedly a successful QR codes broadcasting because the Coinbase app crashed, presumably from too many signups and heavy visitor traffic. It was also Coinbase's Super Bowl debut, which just adds to its success story.
Unlike other commercials where companies had to pay A-list celebrities and an expensive production team to shoot ads, the Coinbase ad also seemed more affordable for its effectiveness. All they had to do was pay for the airtime.
One of the best things about QR codes for TV is that there is no need for a big production to generate favorable results. All you need is a QR code developed by a well-established and reliable QR code generator.
Pop-Up TV Ads
QR codes for TV don't need to appear exclusively during commercial breaks. They can also pop up during live TV events and keep viewers' attention even during downtime.
There is a high chance of people doing double-screen duties—they will keep the TV on in the background while scrolling on their smartphones for other entertainment.
Advertisers can always catch their attention with an interesting QR code on TV. For example, during the 2022 Indianapolis 500, a Verizon QR code created by QRcodeKit.com appeared onscreen. It led viewers to a Verizon 5G portal for an augmented reality race experience. Thousands of viewers enjoyed access to the 5G Ultra Pass AR portal powered by Verizon and Trigger.
The QR code for Verizon's 5G Portal also appeared during the live telecast of the Academy Awards in 2021 and 2022, as well as the 2021 Grammy Awards. The QR codes gave viewers an immersive virtual experience using their smartphones, and Verizon got the boost of engagement that they wanted.
What are the types of QR codes that appear on TV?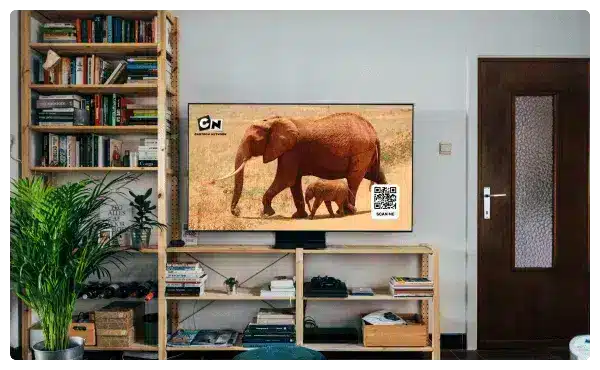 Shoppable TV ads
In 2019, NBCUniversal rolled out a new ad feature: shoppable ads. QR codes appear in the middle of shows so viewers can shop for the product that appears on the screen.
During live events, QR codes lead viewers to e-commerce sites where they can purchase the products they see on telecast. In some cases, the commentators will call the viewer's attention to the QR code and explain what it links to.
NBCUniversal executives explained that shoppable TV ads benefit both the advertiser and the viewer-turned-shopper. Shoppers don't have to look up the item on their own; instead, they are directed to the relevant online store with just one click.
Survey
It can be difficult to get people to answer surveys. Cold calls are largely considered spam nowadays, and many would find an excuse not to answer any questions over the phone, even if it's about something innocuous. Many people also find answering surveys on paper taxing—they just cannot be bothered.
In Spain, they did something innovative to make surveys much more convenient. State-owned broadcasting network RTVE asked millions of people to answer a survey that would shape the organization's practices. The campaign was dubbed "#LaGranConsulta" with QR codes appearing everywhere, including on TV.
A QR code for broadcasting, generated with QRcodeKit.com, appeared during the FIFA World Cup qualifiers, which led to streams of data that the company needed. It turns out that people become willing to answer surveys if you make each step easy for them.
Fun Promos
Burger King launched a fun TV ad in 2020 that gave viewers a chance to get a free Whopper. The ad featured a floating QR code that attentive viewers had to scan.
The ad was effective because it gamified the act of scanning—the QR code floated everywhere on the screen, injecting some fun into the action. Successful scanners were led to a page offering coupons for a free Whopper, but only after purchasing products from the Burger King app.
It was a fun experience for viewers, especially for those who have been homebound due to the pandemic and had limited access to fun entertainment. The Burger King promo was launched in the thick of lockdown, and participating wasn't just about the possibility of getting a free Whopper. It became a fun game, something fun to do while watching TV.
Social Media QR code Link
Advertisers can also add a QR code to their commercials to lead viewers to the company's social media accounts. There are over 4 billion people on social media, a huge number that's ripe for capturing and turning into paying customers.
Social link QR codes are not new in digital marketing but are not yet common in TV ads.
QR codes on streaming sites
TV is no longer strictly for network and cable programs. There are now a handful of streaming networks that people can watch on television. One of the main reasons streaming sites have become so popular is because they don't have ads.
People pay for subscriptions to stream content without interruptions. However, this doesn't stop creative advertisers from marketing on these platforms.
Here are a few examples:
Netflix
Black Mirror is one of the most popular shows streaming on Netflix. It was also an anchor for Tuckersoft games. A QR code appeared during the show's Bandersnatch episode credits. Scanning the code leads to the Tuckersoft website, where viewers can play Bandersnatch games.
Hulu
Rick and Morty is one of Hulu's most popular shows. In a season 4 episode, Rick wears a funnel hat with a QR code. When scanned, the code leads viewers to a page that sells the actual hat.
Advantages of QR codes for TV Ads/Commercials
In the digital age, why should companies still consider advertising on TV? There are many reasons to do so: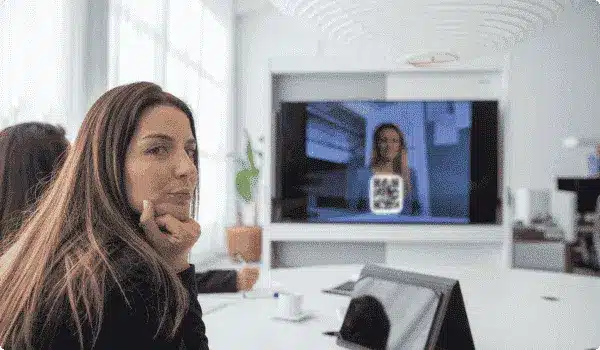 Large Audience
While digital media advertising has increased in the last few years, TV still has a much broader reach. With just a 30-second ad, you can reach millions of people in their households.
The hurdle is the effectiveness of TV ads when people aren't inclined to watch commercials. The integration of TV and smartphone via a broadcast QR code seems to be working well.
The Super Bowl Coinbase ad, for example, resulted in an increase in Coinbase app downloads by 279%. The crypto company spent $13 million on the one-minute ad, and over 20 million people visited their website because of it. The boost also benefited QR code generators as scans and QR code creations increased sevenfold.
Advertising Week noted: "With the distance between your TV and your smartphone being only a short journey, embedding a QR code into your TV ad is a great way to take the viewer experience to the next dimension. With just one scan, you can connect viewers to your products, services, and other platforms where they can have a fully digital experience and take action." It's exactly what Verizon did with its 5G Portal. During the Oscars, viewers could watch their favorite actors walk the red carpet. At the Grammys, the 5G Portal allowed viewers to rewatch live performances that had just aired. For motorsport enthusiasts, they relished behind-the-scenes access to the Indy racetrack.
Targeted Audience
Football games have the most expensive TV ad slots because they are by far the most-watched TV programs in the country. Eighteen million Americans regularly watch Sunday Night Football on NBC, and around 15 million watch Thursday Night Football on Fox. This vast audience can be targeted by companies that want to expand their reach.
For example, the average football watcher is male between the age of 35 and 44. When divided by gender, 42% of regular Football viewers are male, and 24% are female. This data should give advertisers an idea of who to target in their QR codes on screen during NFL games.
As for regular programming, the top five most-watched TV shows are Yellowstone on Paramount Network (11.3 million), NCIS on CBS (11 million), FBI on CBS (10.3 million), and Chicago Fire on NBC (9.9 million).
Trackable
It's difficult to monitor sales conversions from TV ads; you can only measure raw traffic right after it airs.
But when you use a dynamic QR code, it is easy to track results. The QR code has an embedded redirect URL that takes scanners to app stores or landing pages. This is yet another benefit of the marriage between the TV and the smartphone through the QR code.
Advertisers can improve their campaigns through this trackable data, which can lead to even more conversions and long-term success.
With data from QR code scans, you can easily track real life consumer behavior. For example, location data can be broken down to specific cities and countries. When you have granular information from QR scans, your marketing team can recalibrate their strategies to target specific audiences.
Data such as the operating system used and the exact date and time of the scans will also make a tremendous difference in assessing the success of the QR code campaign. When you know the blocks of time when scans are at their peak, you can set a more precise schedule for when you want them to appear on screen.
Impulsive Sales
Impulse buying is the irresistible urge to purchase products without evaluating the consequences of doing so. This consumer behavior is gold to advertisers, and it is heavily triggered by emotion.
An advertisement is one of many factors that trigger an impulsive purchase. And because QR codes on screen are still a fairly new concept, some viewers' impulse is to immediately participate.
If you are a fan of Novak Djokovic, seeing a QR code that allows you to purchase the same shirt he is wearing may trigger your impulse to scan and buy. Or, if you are bored watching TV in the middle of the day, the chance to play a game and get a free Whopper will drive you to "catch" the QR code on the screen. On the week of the Burger King QR code campaign, Google searches for Whopper increased by 2,300%.
Best practices for QR codes on screen
Contrary to popular belief, not all QR codes are created equal. Some are infinitely better than others.
How do you ensure you have the best QR code for TV?
Find a Reliable QR code Generator
An attractive-looking QR code is pointless when it doesn't lead viewers where you want them to go. Your QR code must be functional, and the right company can provide that for you. More importantly, the QR Code must provide important data that will help companies improve their campaigns. A solid and reliable QR code service generates measurable metrics that will help businesses improve.
Find a QR code generator trusted by big brands. QRcodeKit.com is trusted by over 350,000 companies worldwide, including 3M, Coca-Cola, Ikea, Lego, NASA, and Nike.
Ensure Sufficient Size for the QR code
The standard scannable size of the QR code should be at least 1.2 inches by 1.2 inches, with an adequate quiet zone or white space on each side. For broadcast QR codes, the minimum size still stands if it is meant to appear while a program or live event is airing. If the code is part of a commercial, it can be as large as 8 inches by 8 inches.
Test the QR code before going live and make sure it shows up correctly on screen to attract the attention of the viewers.
Include Instructions and Incentives
Some people may know what to do with QR codes on screen. Make sure to include a short and simple explanation of how and why viewers should scan the QR code.
People become more inclined to do something when there is an incentive to do so. Consider the exclusive augmented reality experience offered by the Verizon 5G portal during live events, the free Burger King Whopper, and even the Lacoste shopping experience to buy Djokovic's shirt.
Customize the QR code
Branding is a crucial element of advertising. For maximum effectiveness and brand recall, customize your QR codes so viewers will immediately know where they came from.
A reliable QR code generator can help you customize the visual without affecting function. You can simply add your logo in the middle of your QR code or customize its color and shape. With these simple changes, your brand's personality will shine through.
Ensure color contrast is achieved
Your QR code must stand out when it appears on a TV screen. Choose a design with enough color contrast so it catches the eye and will be easy to scan.
Reuse the design
Reusing QR codes on TV will help brand recall and save your team the trouble of making new QR codes each time. If you have to create a new one, it should be because you want to improve its functionality or link to an entirely different landing page.
How to create dynamic QR codes
1. Create the QR code for TV
You will need to create a QR code for TV. QRcodeKit.com is one of the most reliable QR code generators today. It is the leading solution to connect digital content with the real world.
List everything you want your QR code to do, and the generator will create it for you: link to a website or to an AR portal, make people download a mobile app, provide directions for an event or a venue, participate into a survey, and much more.
2. Design your QR code
QR codes have an error correction feature, which is an allowance for missing and obscured parts. It means that the QR code can still be scanned even if some elements are covered, or the frame was not scanned perfectly. Because of this, QR codes don't have to be just the standard black and white.
Keep branding in mind when designing your QR code. You can add your logo in the middle of the image or change the color scheme to match your brand's color palette.
Consider how the colors will appear on a large TV screen. Effectiveness should not be sacrificed for aesthetics.
Why you should put your logo in your QR code
When people see a QR code with your brand logo, they will know instantly what they are in for. This will significantly boost brand visibility and recall.
It will also give you a sense of brand ownership over the QR codes for broadcasting.
You can put other images, too
There are some cases where it's more appropriate to add other recognizable images on the QR code to show people exactly what they are scanning. For example, if you want to lead people via QR code to go to a YouTube video, you can use the iconic video square instead of your logo. If the QR code leads to a payment channel, you can put PayPal's logo.
This is an effective advertising shortcut that will encourage scans. Viewers who see the YouTube or PayPal logo will know precisely where they are headed and will be more inclined to engage with your QR code.
3. Track your QR code
One of the most important benefits of dynamic QR codes is that they can provide crucial data for the brand: the time of the scan, where, the total number of scans, what operating system was used to scan the QR code, and in some cases, even the age and gender of the viewer who scanned the code.
All of these statistics are available in real-time. This data will help your brand adjust marketing strategies based on the demographic and geographic data gathered from the QR code scans.
With the QRcodeKit.com tracker, you can also filter statistics by date. You can also link your QRcodeKit.com account with your Gcooogle Analytics ID for more data tracking options.
QR codes on TV: connecting TV and smartphones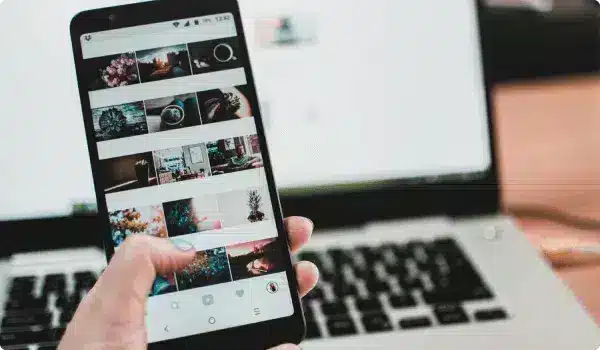 Global spending on TV advertising may be going down in comparison to digital marketing. However, it cannot be denied that TV still has a wide audience that advertisers can leverage. It's just a matter of connecting TV and the digital world through QR codes.
QR codes for TV deliver a more engaging advertising experience. It's also versatile, and in some cases, it can be fun!
Partner with QRcodeKit.com to create and manage dynamic QR code that you can air alongside your TV advertisements to boost audience engagement, increase sales conversions, and ensure long-term success for your brand.