So, you're ready to jump on the QR code bandwagon. You've got ideas for your call-to-action, a strategy and, most importantly, a purpose; it's time to search for the best QR code generator online in 2023. You Google for it and… you get endless results. Sigh What now?
Well, since there are so many QR code generators out there for you to choose from, let's go over what actually makes the best one, the best. Knowing what features and options to look for before choosing a random QR code generator will definitely be worth your time… and money! Without further ado…
The best QR code generator
First and foremost, we'll be focusing on the best online QR code generator. Although there are mobile apps that allow you to create QR codes as well as QR code maker softwares for PC, online generators can be used on any device, at the office or on the go, due to their cloud-based nature.
Secondly, the best QR code generator should meet all your needs. By this we mean that whatever project you have in mind that requires the use of QR codes, a generator should adapt to it. The more options a QR code generator has right from the get go, the better experience you will have.
From marketing campaigns to non-profit organizations, from health and care to education, all endeavors should be welcomed by a QR code generator with the most complete selection of tools and features. If you're wondering "How do I choose the best QR code generator?", looking for the features below will put you on the right track.
The best QR code generator will help you do the following
1. Generate dynamic QR codes
With a QR code generator you can create QR codes. No surprise there. But it's the ability to generate dynamic ones that makes a platform truly stand out from the rest.
Dynamic QR codes allow you to change the content of your QR code as many times as you want without having to reprint it. They have a unique URL that automatically redirects users to their current content after scanning them.
Say, for example, you start off by linking your QR code to your website and at a later time, you want to set it to your Facebook profile. This can be easily achieved via dynamic QR codes.
The QR codes you want to avoid, on the other hand, are the so called static QR codes. Once the content is set, it can't be changed. More on the difference between the static and dynamic QR codes.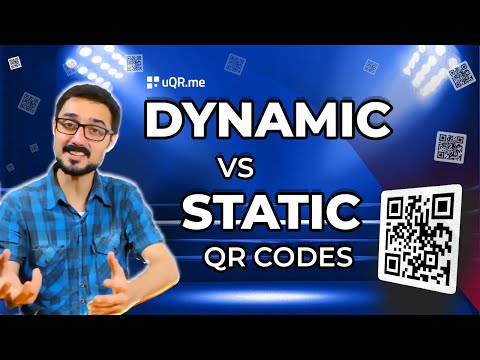 2. Choose different types of QR codes
Speaking of content, QR codes can be linked to any type of digital media. From the most common use such as a URL to a vCard, from a YouTube video to a Google Map, the choice should always be there.
The best dynamic QR code generator out there has to have all these options and more. Remember, a QR code generator has to adapt to you and not the other way around.
Here are some of the best redirecting options you can choose from just to give you an idea of what you can actually achieve:
Website URL: Connect your QR code to a website of your choosing.
Mobile Page: Create your own mobile page. Insert your content, modify it, add images, videos, links and more. Ideal for people to access your resume.
vCard: The electronic business card. Store your contact information (first and last name, phone number, email, address). When people scan your QR code, the information will be instantly added to their digital address book.
File Download: Upload a file (MP3, MOV, PDF) of up to 5 MB for people to download to their mobile devices after scanning your QR code.
WhatsApp: Automatically opens a WhatsApp conversation with you on users' phones.
Digital Menu: Create a contactless, mobile-optimized version of all your menus, readily available for customers at restaurants, bars, hotels, and venues in general.
CoVID Track & Trace Form: A health assessment of visitors at any type of establishment, compliant with the WHO guidelines and the Privacy and Data Collection laws.
Google Map: Insert a full address for people to locate your company or store via Google Maps.
Google Reviews: Directs people to a Google Page where they can easily rate your business.
YouTube Video: Have people watch a YouTube video by scanning your QR code. Ideal for video tutorials or music clips.
Social Network: Connect your Facebook, Twitter or Google+ accounts to your QR code for people to follow you. Get likes, tweets and +1's by enabling the widget of your chosen social network.
PayPal Account: Allow customers to transfer money to your PayPal account with their mobile devices. Receive payments and donations easily, directly through your QR code.
App Store: Connect your QR code to your app's URL addresses. People will be redirected to the app store that matches their mobile devices (iPhone, Android, BlackBerry, Windows).
As if that weren't enough, the best QR code generators are completely ad-free. The user won't have to go through an advertisement right before reaching your specific content.
3. Generate custom QR codes with your logo
QR codes are not that appealing to the eye. In fact, they may just pass for another barcode on a packaging. That is why it is important to know that QR codes can be customized.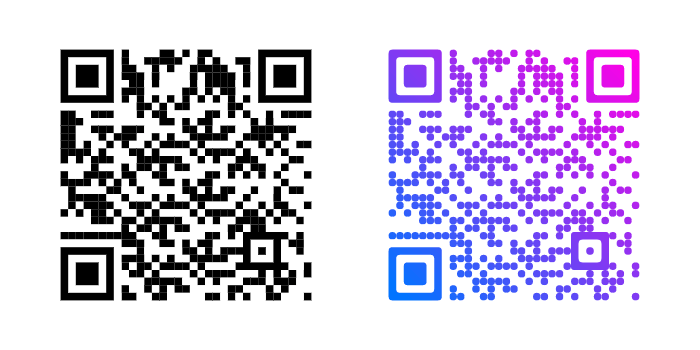 A good QR code generator comes equipped with beautifying options that can make your QR code's appearance a lot more attractive. You can opt to change the code's color scheme, round its corners and even add your own logo right in the middle of it.
As a side note, the looks of a QR code can also attract the attention of young ones. A generator for teachers and schools is a great way to promote new ways in which students can learn while being actively involved with the technology.
Beautifying your QR code will attract more scans while boosting your brand identity. It is a great feature to look out for when in search of the best QR code generator app.
4. Download and print your QR codes
After having your QR code customized, it's time to download it, add it to your graphic design/packaging and print it. In order to do so, it is imperative to export the QR code as a vector image file with the best printing quality.
These files (EPS, PDF, SVG) differ drastically from raster images (JPG, PNG). The latter formats have limited resolution since they are meant to be used only on digital platforms. Vector image files, on the other hand, can be resized to fit any particular surface without losing quality.
Much like the aforementioned customization tools, the QR code generator you choose to use must provide various export options in order to increase the ways in which you can apply your QR codes. We also have a full how-to guide to printing QR codes available.
5. Track your QR codes' statistics
From all the features we've discussed, tracking your QR code's statistics has to be the most important as it will give you a complete understanding of how your QR code endeavor is working out. In other words, you should look for a generator with tracking capabilities.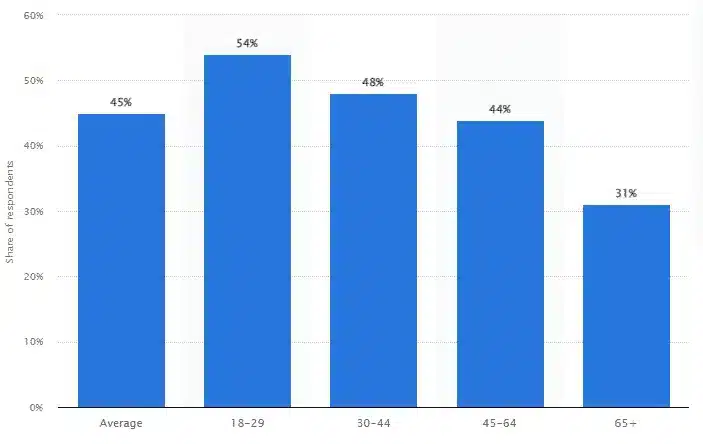 Share of shoppers who used marketing-related QR codes in the United States as of June 2021, by age. Source: Statista
The data retrieved can easily pinpoint whether or not your QR code is actually being scanned, how many times, by whom, from where and much more. The stats can also help you determine if the call-to-action needs to be revised.
QR code generators in general may have a way to gather this information but only the best ones offer all of the filters cited above plus geo-localization and means to connect said data with other platforms such as Google Analytics.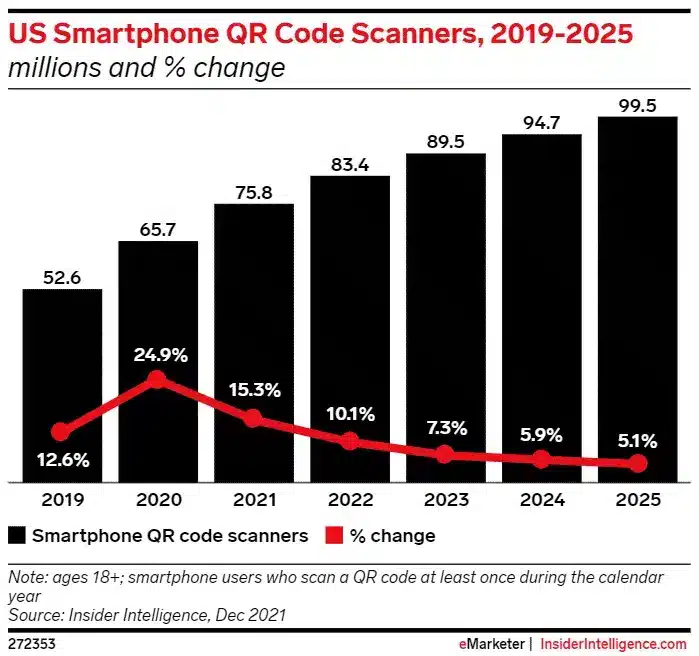 US Smartphone QR Code Scanners, 2019-2025 (millions and % change). Source: eMarketer
6. Customize your landing pages
The Mobile Page redirecting option is one of the most robust types of QR content you can find. It basically allows you to create your own custom-made page which can only be accessed after scanning your QR code.
The tools that you'll have at your disposal range from generator to generator. The best one, however, not only enables you to insert text, links, images, etc., but also comes equipped with an HTML editor to customize your landing page even further. If you want yours to really get the attention of your audience, this feature is a must.
7. Generate safe QR codes & use data protection
If you're thinking of using QR codes to run your business more effectively, you'll also need to provide strong security and privacy measures for your organization and clients. The best QR code generator takes this into account, implementing strict protocols to keep any scanner's data safe.
Make sure the QR code generator you're considering uses a specialized system to detect harmful attacks, passive and active, maybe with the support of third-party cybersecurity services. Also, you want your QR code generator to keep data under lock and key, for instance standardizing GDPR compliance – the European standard, which enforces the most secure data protection in the world.
We extensively cover this topic in this article about secure QR codes.
8. Last but not least…
All of the above are just as important as these two last aspects that define the best QR code generator as such:
Affordability: QR code generators offer several plans that accommodate to ones budget. From free subscriptions that offer limited albeit powerful functionalities to full-on complete packages that include everything we've discussed.
Management: Having over a thousand QR codes to track sounds stressful… and it definitely is. That is why QR code management is crucial. The best generators offer ways in which you can organize your QR codes in different folders/projects/campaigns (acronyms depend on the actual platform). If you have multiple marketing campaigns, each with their own set of QR codes, having the possibility to manage them in such way will relieve from that initial stress.
With that being said, we wrap up the list of things that a QR code generator should have in order to achieve the level of greatness. One final word of advice, though, which arises from the management aspect of a QR code generator, is the following…
The next QR step
QR code managers; the natural evolution of a QR code generator. Managers allow you to basically become a QR code maker.
This quote comes from a previous article in which we examine the differences between a QR code generator and a QR code manager.
What really matters here aside from the bells and whistles, is that a QR code generator/manager has to get you covered. Not to mention, if you were to encounter any particular problem using the platform, someone should be there to support you; yet one more thing to have in mind.